Planning a big move? Whether it's your first apartment, you're relocating for work, or you've just purchased your dream vacation home, there's a lot to consider and the cost of furnishing your new home may not be what you expect. Packing materials, truck rentals and movers, plus an increase in rent, utilities, internet and renovations all have to be included in your budget.
Then there's the furniture. If you need to buy everything for this new apartment and need help on how to budget the cost of furnishing, then read on! (If you already have some furniture but can't decide what to bring with you, read this post for our quick tips.) This article will take you step-by-step through the entire process of how to furnish an apartment from scratch. No matter what, furnishing an apartment is time consuming and labor intensive. 
Alternatively, if you're looking for a turnkey solution to furnish the entire home for you in one day, we're here to help. Start by submitting a design request and our design team will put together several designs based on your style, budget and timeline. And all the furniture and accessories in the design will arrive and be set up in your new home in one day.
Below, you can read more about how much furnishing costs and how to prioritize your budget broken down this article into a few key topics.
Key topics about the cost of furnishing an apartment
Your budget vs. cost of furnishing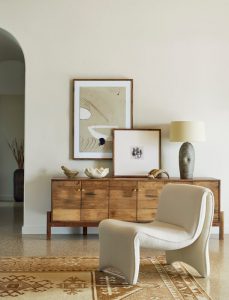 However we break down the budget and cost for you, every home and situation is unique. Your lifestyle and personal design preferences also play a major factor in what types of furniture and accessories you want to fill your new home. This guide will help you prioritize pieces that are essential to every home to help inspire you to live your best life now, no matter what life stage you are at.
Also, this guide is for furnishing with quality furniture and accessories, because you deserve a comfortable home with pieces that you love and last you years to come. (Some of our customers even call these "IKEA-graduate" pieces.)
Furnishing cost calculator
The cost of furnishing your entire apartment or house will vary based on room sizes and your personal style. That said, if you want a quick ballpark budget for the cost of furnishing an apartment or a house or just a few rooms, check out our handy Cost Calculator that gives you a budget range. Remember to request a design so you can see what you can get in your style in that budget range.
Before we break down the cost of furnishing an apartment, let's plan out what you need. You're probably thinking, sofa, TV, mattress — easy! Shouldn't cost more than a couple hundred here and there. The truth is that you need more than just these three items to live an adult life. How your home is set up has a huge influence on your lifestyle and social life!
A truly upgraded and adult space should have a few more furnishings, such as an armchair, a coffee table, a dresser, sturdy and stylish dining set for entertaining to feel like a home. Decor and accessories in different textures and shapes also help your space feel more warm and comfortable. 
Determine your furniture footprint
When furnishing a new space, the first step is to split the apartment into different functional areas – generally the living room, dining room, bedroom and home office area. These four core areas serve the basic functions of a home. As a summary, the table below shows the range of cost of furnishing an apartment from a studio unit to a three-bedroom home.
For example, a one-bedroom apartment typically includes a living room, a dining area for two to four people, a bedroom and a small home office. The cost of furnishing a one-bedroom apartment with quality furniture is about $7000 to $11000. And the cost of furnishing a two-bedroom apartment with quality furniture is about $9000 to $15000.
| Apartment types | Cost range (USD) | Included functional areas |
| --- | --- | --- |
| Two Bedroom Apartment | $9,000 - $15,000 | A typical two-bedroom apartment is usually used by a couple, a young family or two roommates. It typically includes a living room, dining room for four, master bedroom, home office / guest bedroom |
| Studio Apartment | $5,000 - $9,000 | A studio apartment typically can have a living area, a bedroom and a dining area or workspace. There is usually a kitchen or small dining area that fits a table and two chairs |
| One Bedroom Apartment | $7,000 - $11,000 | A one-bedroom apartment often is for one person or a couple. It typically Includes a living room, dining room for two, a bedroom, a small workstation |
| Three-Bedroom Apartment | $14,000 - $20,000 | There are likely three or more people living in a three-bedroom apartment. It may be a small family or three roommates. It typically Include a living room, dining room, a master bedroom, guest bedroom and home office |
Use a turnkey furnishing solution
No matter how much you plan for it, furnishing a new home can often throw you some curveballs. Floor plans can be inaccurate with incorrect dimensions, or sometimes you discover quirky details you didn't notice during your apartment tour. Everyone has been there! Whatever the case, you want to avoid having to live out of your suitcase for several weeks. Any unexpected issue can cause extra stress, so using a turnkey solution may be an alternative for you.
If you want a designer to curate all the furniture and accessories for your new apartment and get everything delivered and set up in one day, Furnishr is here to help. Start by submitting a design request. 
Cost breakdown of furnishing each room
We have furnished thousands of apartments and houses of different sizes, in different styles, in different cities. In other words, we know how to budget for each room because that's what we do everyday.
Each major room in an apartment should include at least two to three pieces of essential furniture. A living room should have at least a sofa and coffee table. The bedroom should have a bed frame, a mattress and a nightstand or side table. We will dive deeper into what essential furniture to include into each room below.
Essential functions for each room
In the table below, you will see the cost ranges for a living room, dining room, bedroom and home office. These cost ranges include the essential furniture and non-essential furniture and decor. If you prefer to keep things minimal and focus on the essential furniture only, we suggest narrowing down to furniture that fits these categories:
✓ Seating / Sleeping
✓ Tables
✓ Storage
✓ Lighting

Simply put, these four functions are needed no matter what room it is. Definitely, you need to sit or sleep somewhere in your new home. You need a table for simply holding a drink, a phone or a book. Some kind of lighting is definitely needed for your mental health unless the ceiling light is sufficient for all corners of the room at night. Storage also helps keep clutters away unless the table is enough to hold everything you have. If you just have a piece of furniture that serves one or more of these functions, you will be able to start living in this new home. 
As you will see, the cost ranges for each room can vary greatly depending on your lifestyle, life stage and style preferences. That said, if you just want a quick estimate to how much it costs to furnish an apartment or a house based on the rooms you have, simply add up the costs of the rooms to estimate the budget. 
| Room In Apartment | Cost Range (USD) |
| --- | --- |
| Living Room | $3,500-$5,000 |
| Dining Room & Kitchen | $1,500 - $2,500 |
| Bedroom | $2,000 - $3,500 |
| Home Office | $1,500 - $3,000 |
Costs with better-than-IKEA furniture
The world has gone through a whirlwind of changes since 2020. Supply chain disruptions have created a ripple effect across the board in every furnishing and decor category. Let's take a look at the realistic costs for furnishing each essential room in an apartment.
In 2023, you can furnish a living room for $3500-$5000, a dining room for $1500-$2500 and a bedroom for $2000-$3500. If you don't need anything else, the cost of furnishing an apartment will range from $7000 to $11000 using quality furniture that will last many years. While this is a big range, the selections come down to what your priorities are.
Cost breakdown of furnishing your new living room
Let's start with the living room furniture. Using the same categories of seating, tables, storage and lighting, you can determine how much furniture is needed for each category based on the size of your space and the comfort level you want. Every person and every home has unique needs, so we will break down the cost by essential furniture and by non-essential furniture and accessories.
| Essentials | Average Cost Range |
| --- | --- |
| Lighting (floor lamp, table lamps) | $180-$400 |
| Storage (TV stand, bookcase) | $500-$1,250 |
| Tables (coffee table, side tables) | $200-$450 |
| Seating (sofa/sectional, accent chair) | $1,800-$2,600 |
In summary, the average cost of furnishing a living room with essential furniture only is $2680 to $4700.
Here, you will see a detailed breakdown of essential living room furniture and their typical costs.
Seating: sofa and accent chair, or sectional sofa: $1800-2600
Your layout determines which items you need
If you have a wide living space, use a 3-seater sofa and an accent chair to create a conversational seating arrangement. Therefore, adding an accent chair opposite to the sofa will create a conversational environment
Combining different textures, materials, shapes and colors will help increase interest and balance in the space
If there is enough space, you can use a sectional sofa with one or two accent chairs
Even if you have a small living space, you can also just use a sectional sofa. Remember, the smaller the space you have, the fewer pieces of furniture you should have!
Tables: coffee tables, side tables: $200-$450
Think ergonomics! The shape and style of the tables you choose should depend on the room size and function
If you have two accent chairs side by side, a small table in between provides a surface for setting down your drink or book
Using a round table in a smaller space or when using a sectional creates optimal flow
Many coffee table designs have additional built-in storage. Try to use as much multi-functional furniture as possible!
Keep in mind that cost will increase as the piece shows more style and function. If you are excited about multi-purpose furniture, look for lift-top coffee tables that become workstations or dining tables
Another consideration for multi-purpose furniture is that most people get lazy in changing the configuration of the furniture so make sure you like the default configuration
Storage: TV stand: $500-$1250
A TV stand is a simple storage piece that can hide many small gadgets from sight.
There are styles with open shelves and closed storage. It depends on your style and preference.
A TV stand with more doors for closed storage would likely cost more than one with open shelves because more materials are involved in the construction.
Closed-storage units also range in more styles.
When choosing the size of a TV stand, you need to consider the size of the TV it will hold. It is best to have a TV stand that is at least 6″ wider than the TV width so you can leave at least 3″ of space on each side of the TV. See this guide to help you choose the right TV size based on your room size.
Lighting: floor Lamps, table Lamps: $180-400
Lighting is a key component to making your home cozy and functional; it should never be considered an afterthought
Since many apartments don't come with ceiling lights, floor lamps and table lamps can really help transform a space
There are many lamp styles that serve different purposes. For example, reading lamps or task lamps should be placed near a reading chair or on a desk. 
The more elevated the lamp is, the more coverage area it will light up
Keep in mind the placement of electrical outlets
Cable management is also an important job not to overlook. Making sure electrical cords are hidden and tidy keep your home safe and aesthetically pleasing
Therefore, the total cost to furnish a living room will be between $2,680 – $4,700 on average.
All the costs here are costs from Furnishr. We source from designers' favourites and cut out as much middlemen costs as possible. Therefore, we can keep product costs low while providing full white-glove delivery services. Furnishr's product quality is comparable to the quality of WestElm and Crate and Barrel.
(To compare Furnishr with other retailers, you can check out this comparison table here.)

Cost breakdown of furnishing a basic bedroom
You've planned your living room, so now you need bedroom furniture! Here's a breakdown of essential bedroom furniture (bed frame + mattress + nightstand). Again, we follow the same essential categories.
| Essentials | Average Cost Range |
| --- | --- |
| Lighting (table lamps) | $180-$300 |
| Storage (dresser) | $500-$800 |
| Tables (nightstands, side tables) | $180-$300 |
| Sleeping (queen size bed frame) | $600-$900 |
| Sleeping (queen size mattress) | $450-$1200 |
The average cost of furnish a bedroom with essential furniture only is $1910 - $3600.
Let's talk about each category of essential furniture for the bedroom in more details.
Sleeping: queen size bed frame: $600-$900
Obviously, this is an unavoidable cost! There are many options for bed frames, like storage drawers or lift-up under-bed storage. Reasonably, the more storage, the more costly the furniture is.
A bed should be made to last, so consider it a key investment piece. Don't skimp!
A nice headboard can also serve as a statement design piece in the bedroom, so it's important that you love the headboard!
Sleeping: mattress: $450-$1200
A good mattress is the key to a good night's sleep, so definitely don't skimp here either.
There are many different kinds, like memory foam and spring mattresses. But don't worry, mattress technology has advanced so much over the past decade that it's actually difficult to find an uncomfortable mattress unless you're an extremely picky sleeper.
Choose a mattress (and bed) size that fits properly in your bedroom. You want plenty of room to sprawl out in bed, naturally, but remember that you also need enough space to move around the room comfortably. Nothing creates dead energy in a bedroom quicker than a poorly sized bed.
Make sure your mattress is at least 8″ thick to ensure all the foams and padding are thick and high-quality.
Tables: nightstand(s): $180-$300 each
You need at least one surface area next to the bed for a table lamp, an alarm clock, your phone or a book.
Place the nightstand closer to the side with an outlet for charging all your electronics.
Nightstand sizes vary. Pick one that fits with the size of your bedroom, and also that will fit everything you typically keep beside your bed.
If your bed is not against a wall (or window), use two nightstands (one for each side of the bed) to create a symmetrical look.
Storage: dresser: $500-$800
A dresser may not be essential for your bedroom if you have a large closet that is enough for all your clothes. 
If you do use a dresser, you may consider a wide dresser that can hold a TV. 
A proper dresser should have at least two drawers.
In a small bedroom, you could use a small chest of drawers instead of a dresser to save space. 
Lighting: table lamps, wall sconces: $180-400
Many bedrooms don't come with ceiling lights. Bedroom windows also tend to be smaller than living room windows.

Table lamps should fit on the nightstands and still leave enough room to hold other gadgets

Wall sconces are great for bedrooms because they save space but they require drilling holes onto walls. Some landlords and buildings may not allow this, so make sure you double check. 

The more elevated the lamp is, the more coverage area it will light up
Therefore, the total cost to furnish a bedroom will be between $1,910 – $3,600 on average.
(P.S. When choosing your furniture, make sure you choose pieces that "spark joy".)
Additional furnishings to create the "designed" look
Now, you know how to budget for the essentials when furnishing an apartment from scratch.
So, once you cover the basic pieces (bed frame and coffee table), you're free to add more style and more function to your space. So let's level up. You may as well plan for your best life if you're planning a move anyway!
In this next section, we'll cover the items that can transform a house into a home. These items are optional, but they definitely level up your space in terms of usability and aesthetic appeal. For these items, the interior design "rules" become a bit trickier. For instance, how on earth do you choose the correct size for an area rug? You definitely want to avoid a mismatched set of furniture in your home.
Want us to furnish your apartment?
Complete a design request and we will show you designs that fit you and your space.
Let's continue to level up your new home. Non-essential furniture simply means you can start using the space as your home without these pieces. However, the non-essential furniture and decor are pieces that give you the feeling of "home". They make your home look more "adult", lived-in and put together. If budget is a constraint, then the non-essentials should be deprioritized and you can always spend more time to gradually build a comfortable home with the non-essentials.
Here are the non-essential categories that our design team recommends for every home.
More of the essential categories
More seating or sleeping
Add functional pieces to fill your space, but don't clutter
You will always find a need for more chairs
If you can add a sofa bed, your guests will always appreciate it more than a regular sofa
More tables
Like seating, you can always use more small tables for functional and aesthetic purposes.
Give yourself more places to put lamps, glasses, and decor items!
Each side table should be at least 18″ wide to hold everything safely. You need room for a few small knick knacks, and several drinking glasses.
Add a console table by the entryway, by the window or behind a sofa to make space for more decor and surface areas.
More lighting
Layered lighting with a combination of floor lamps, table lamps, wall sconces and ceiling lamps will create a homey ambience for any space.
More storage
For small spaces, it is important to invest in one storage piece with ample storage compartments.
Bar carts, bookcases and storage ottomans are all interesting furniture pieces to add to any space.
Area Rugs: $300-$800
The standard size is 5×8′, then the next size up is 8×10′.
For living rooms, measure your sofa and coffee table and make sure both front legs of your sofa can be on the rug. If your coffee table is centred on the rug, have at least 18″ of walkway between the coffee table and any surrounding furniture.
For bedrooms, the rug should be near the foot of the bed with at least a third of the rug under the bed. Just like in the living room, both legs of the bed should fit comfortably on top of the rug.
Bedroom rugs should be gentle, both in texture and color. You want to feel softness on your feet every morning when you get out of bed. You also want to see enough of the rug so you can really appreciate the patterns and colours on it!
Wall Arts And Wall Decor: $500-$1500
We suggest to use one statement art piece or a collection of arts in each room.
The art(s) should be on the wall opposite the entrance of the room so they make a strong first impression for the room.
Use a consistent colour tone and style throughout the home to create cohesion.
Plants (Live Or Faux): $100-$200
Any bit of greeneries brings a renewed energy to a room.
Use a tall tree to make a statement.
A collection of small plants also draws attention.
If you cannot be diligent about watering the plants, then it is best to use faux plants instead of live ones.
The art(s) should be on the wall opposite the entrance of the room so they make a strong first impression forthe room.
Cost of non-essential items in an apartment
After determining the amount of essential furniture you need,  you will see how much of the budget is left for the non-essentials. Generally, 10% to 25% of the essential furniture cost can be budgeted for the non-essentials. As mentioned before, you can always take your time to curate the non-essential items.
Now, what is the cost of your time?
Here, you can see our customer Lucy's first draft of a moving budget. At this stage, she hopes to furnish her apartment from scratch for a total cost of $1985.
Definitely a modest budget. Plus, she's moved before… no sweat! Right??
Unfortunately, this budget needs some changes. Take a breath and bear with us. The costs of furniture on her list may have been accurate during Lucy's college days, but inflation, labour and gas prices have all increased since then. Even Lucy was surprised once she began to shop online.
When she started adding items to her virtual shopping cart, her total estimated cost came in OVER BUDGET by 55% — and that was just with IKEA furniture!
Even if you're a thoughtful planner like Lucy, you might be shocked by the total price of furnishing an apartment. But if you want to do it right, you need to ask yourself which kind of furniture you want. High-quality, stylish furniture that will last is a smart investment.
One-bedroom apartment case study
First, let's find high-quality furniture. You need to graduate from your IKEA days! The furniture in your new home should be stylish and high-quality, especially if you're making a big move or starting a new job.
The way you live is dictated by where you place the furniture. That's the beauty and power of interior design. If you place a chair by the window, you'll sit by the window and enjoy the view. If you use broken hand me downs, you'll never feel like an adult.
PRO TIP: Plan your furnishing budget around
high-quality basics.
We're going to review the 3 – 4 pieces of essential furniture for your living room, plus 3 essential pieces for your bedroom. Then we'll show you the cost breakdown of bare basic items for furnishing both a living room & bedroom.
Don't Forget the Time & Hassle of Moving!
Remember our case study, Lucy? All she wanted to do was prepare for her new job.
But there are additional time and energy costs associated with furnishing.
DELIVERIES
How much is your time really worth? What is your plan for handling furniture?
You could rent a truck or get some friends to help you with the moving, setup and cleaning. You could also get it delivered in multiple shipments. You will need to coordinate each delivery with your new building, and remember to book the service elevator.
• Did you know most furniture stores can't guarantee your furniture will arrive all at once? 
• And your delivery costs could range from $150 to $300 per item per store. 
Before you buy, remember that most delivery services drop off items on different days, and many don't include assembly. 
ASSEMBLY
Once you finally have all your unassembled furniture, then you have to assemble it. Doing it yourself is time consuming, and hiring a handyman to assemble your furniture can cost you an additional $30-50/hour. And when assembly is done, what about the boxes and clean up? You would have to cut up the boxes or fold them down in order to fit them into your building's recycling bins.
But there is an easier way.
Ultimately, Lucy found a way to furnish her apartment completely from scratch and all in a single day, with no need to assemble anything or clean up.
You don't need to take vacation days to stay home and wait for multiple furniture deliveries!
Your new job is starting soon, and your official move-in day is rapidly approaching! You know what you want your new apartment to look like. You're feeling ready. Well, almost.
How can you make this move easy for your future self? Your future self probably wants to start a new adventure without the stress and anxiety of managing all this annoying moving stuff. We've got your back.
Lucy's furnishing journey
To shed some light on the true cost of furnishing, let's dive into our recent customer Lucy's furnishing journey. We had a detailed chat about her experience through the "Three Stages of Moving": confidence, anxiety, and finally, relief! (Spoiler alert: Lucy was super happy with her new place, which was actually furnished in a single day.)
At the beginning of her planning process, Lucy felt armed with her knowledge and experience from previous moves. She made a realistic "furnish from scratch" budget based on shopping only at IKEA. Sure, the store wasn't Lucy's top pick in terms of quality, but she wanted to avoid the stress of searching at multiple stores for coordinating furniture. Do you think her budget is realistic?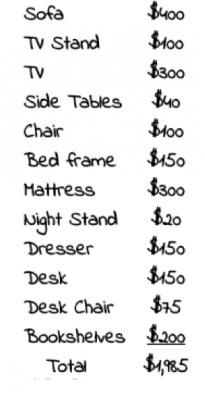 Lucy's Studio
Lucy ended up using Furnishr and purchased a comprehensive furnishing package, completely avoiding the stress of furnishing her studio apartment alone. She spent a few minutes gathering accurate measurements of her new space, and then took a brief style quiz for her designer.
She was paired with Elle, one of Furnishr's dedicated designers. Together they chose the perfect items to fit Lucy's budget and her style preferences.
Size of Lucy's studio: 350 square feet
Lucy's furnishing budget: $2900-3200 USD
Lucy's living space is small, but it's a good rectangular space that can easily be segmented into a living room and separate sleeping area.
Just 15 days after placing her order, every single piece was delivered and set up in Lucy's studio, all in a single day.
Here's how Lucy furnished her studio, from empty room to mood board to finished and styled!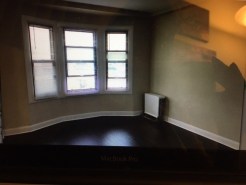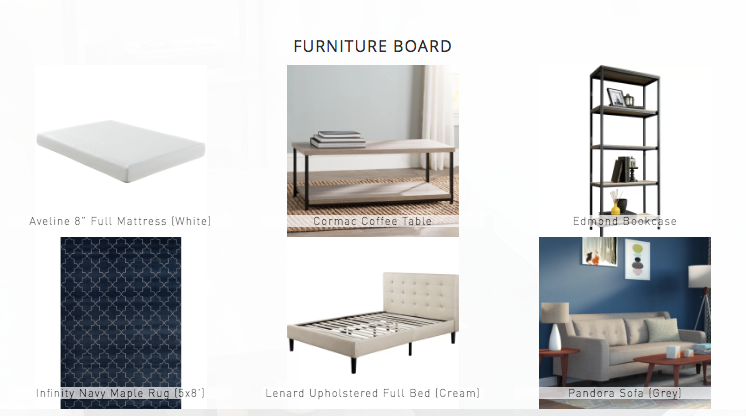 Lucy received all the above items in her $2999 USD Furnishr package. She was super happy to pay for a comprehensive service and save time and money on the furniture, delivery, and assembly.
"I can't believe I furnished the whole apartment for just $3000 without doing any work.The transformation was miraculous!"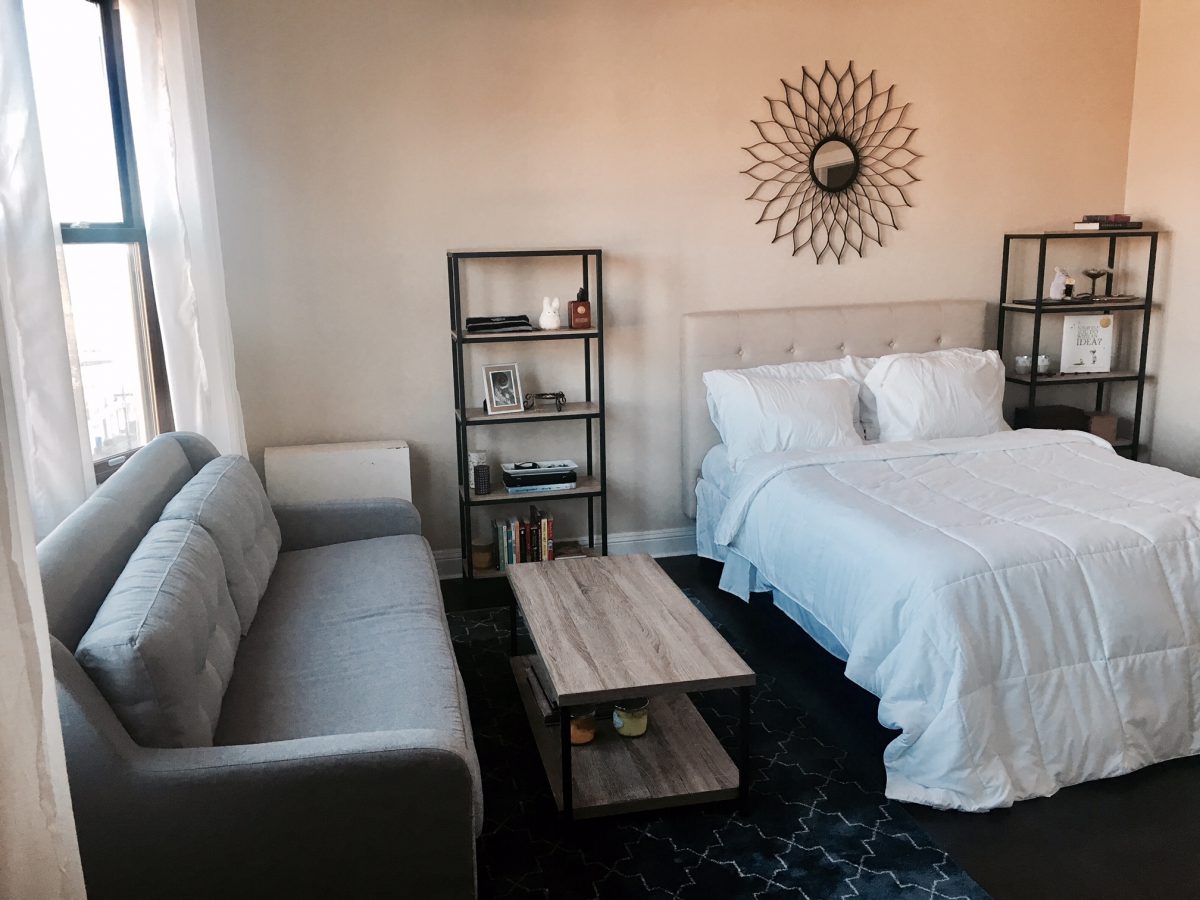 The biggest lesson? Lucy realized her time is actually worth more than a bit of savings, especially in the midst of a big life change. Maybe it was on moving day that somebody coined the phrase  'Time is money!' 
Whew! What have we learned?
Moving is stressful — but that means that you're trying something new and exciting. So congrats! You are well on your way to furnishing an amazing apartment.
Moving and furnishing an empty apartment is no walk in the park, but Furnishr can make it easier.
SUMMARY of the best ways to furnish your space:
First, save money by furnishing with a single company. The retail costs of Lucy's furniture would have been at least 20% more if she went elsewhere.
Second, collaborate with a trained designer to save time and prevent mistakes. Lucy got the added benefit of working with a trained interior design consultant to create her perfect apartment, wrapped into the cost of finding furniture. There are a lot of surprising hidden perks to working with an interior design consultant.
If you are planning a move, bookmark this page and get a custom proposal for furnishing your own space. (It's right over there, where it says "Get Started" —>).
Furnishr wants to help you save time and create a nicely furnished home with high-quality furnishings.
Our goal is to make your move easy, wherever your next adventure takes you. So do right by your future self, and go check out your options to Get A Custom Design ASAP.
Good luck!