Whether or not you do your job from home, it can be great to carve out space for a home office.
SERIOUSLY, YOU NEED A HOME OFFICE
Firstly, having a home office can help you avoid neck problems from web browsing in bed or on the couch. No shame, but chiropractors are costly! A designated "work" area at home, even if it's only a corner of your living room, can help you get into that focusing vibe. It can provide you with a physical space to organize all your home projects, papers, and side hustles. Plus, a home office is a great opportunity to show off your style and display some beautiful and inspirational art (and office supplies!). After all, nothing says "you got this, bitch" more than a sleek filing system, a jar of highly pointy pencils, and your favorite badass motivational graphic. That being said, your first step is to decide how much space you need, and for which activities.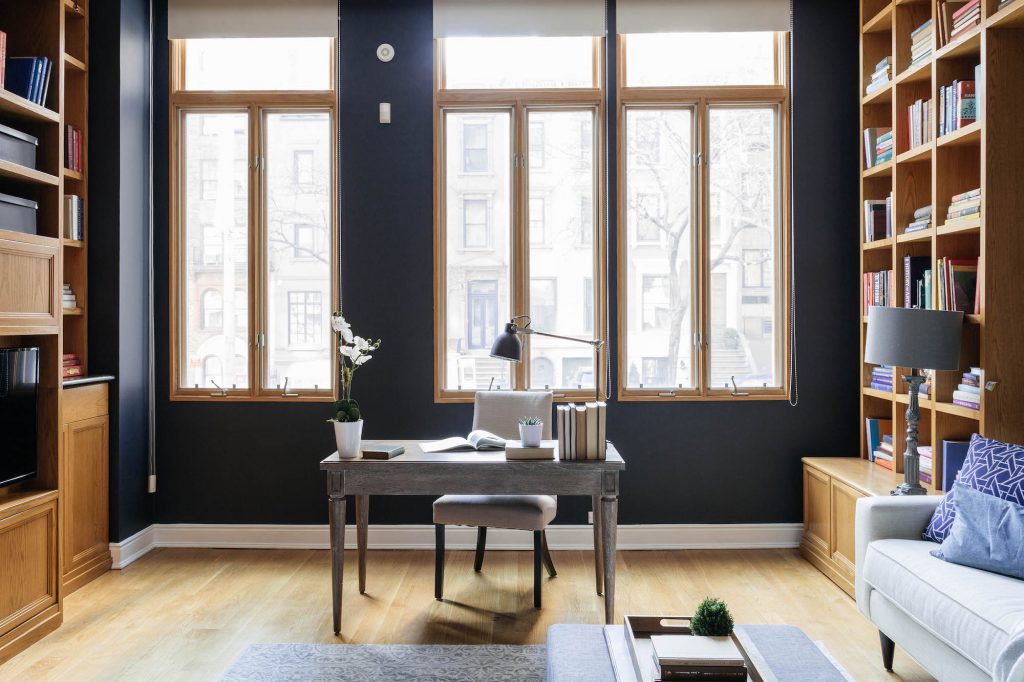 HOW TO MAKE THE MOST OF YOUR MOVE
Now before you start budgeting for fancy stuff, this step is really important. If you're relocating to a new place, it can be tricky to figure out how your current home office set-up will translate. You may already have a desk, a chair, office art, and various containers for papers and supplies. Maybe you already know the dimensions and layout of your new space! Or maybe all you know is that you want some place to set up your laptop and put a couple plants.
The good news is that this moment right now, pre-move, is the perfect moment to take stock of what is / isn't working in your current home office. Take a moment to evaluate which items (and habits) should make this move with you, and which are okay to leave behind.
DREAMING AND PLANNING – WHICH TYPE OF PERSON ARE YOU?
If you are starting a fancy new job as part of your move, it's worth giving some energy to redesign the vibe of your new home office. After all, this space will see you into the next stage of your career development! It should be designed to support you and keep you balanced as you pursue those professional dreams.
Remember to consider your technical requirements. For example, your home office may require a full-size monitor or even a podcasting nook. If you do regular video calls, you should also think carefully about how to light your home office. You also need to think about the best spot to setup (and conceal) your WiFi.
So. Start the dreaming! Imagine yourself sitting down at your beautiful new home office, and take some notes. Is it morning? Are you typing on your laptop on a small table or reaching for your watercolors on a larger surface? If your imagination is struggling, Pinterest is really great for all kinds of home office inspo.
> The Home-Based Entrepreneur
Maybe you're redesigning your home office because you're making the leap to full-time entrepreneurship. You will be working full-time from your home office. Maybe you're someone who enjoys sitting at their desk in the mornings while enjoying a cup of coffee and reviewing a to do list. In this case, you may already have a big enough desk to hold your laptop and your business notes. If this sounds like you, then you may wish to spend your budget on more soft furnishings (lamps, art, rugs) rather than furniture. You could create a special spot for your morning cuppa (hello, clever coasters!) and choose desk art that reflects your early bird mentality. If you want to host meetings, you might want to set a chunk of cash for a stylish couch and an end table.
> The After-Work Hustler
Alternatively, perhaps you're moving across the country to take a corporate job. You just need a small designated spot in your new place to put office supplies and electronics. Are you someone who struggles to make it to your desk at the end of a long workday, and your laptop always ends up on the floor by your bed? If this sounds familiar, think about splashing out on a smaller-footprint desk that lives right in your living room. Look out for materials that make your desk space feel luxurious and attractive. What about a faux sheepskin rug for your tired feet? A tea station, complete with electric kettle, could be an inviting addition to your new home desk. A classy shelf, designed specifically for storing your laptop and charger, goes a long way in encouraging tidiness.
The key to furnishing success is being intentional about connecting design with ritual.
PRIORITIZE YOUR SPENDING
Congrats! You should now have a rough idea of the activities you'd like your new home office to support. We at Furnishr are big believers in furnishing in the proper order. What do we mean by this? Well, you'd never buy a chair for your desk before buying the desk itself, right? By starting with bigger furniture pieces, and considering layout and lighting, you can save yourself so much time and energy. Trust us.
Okay! Now you're ready to attach some cash to your vision. Your home office budget should go towards meeting your most essential needs. And you should have a good idea of which furniture will or will not be making the move with you.
Here's how a home office budget could play out.
Small Nook / Den
If you just need some quiet time at night to check emails, then a small nook or den area will do. This is the most basic setup. You will need a desk, chair, table lamp and some storage piece.
Nook/Den
Desk – Best with at least one small drawer
Chair – Use a dining chair for style
Task Lamp (not the bedroom table lamp)
Storage Piece – Since this is likely in a shared space, make this a multi-purpose storage piece, like a bookcase and bar!
Total
$800 to $1500
Work From Home / Solopreneur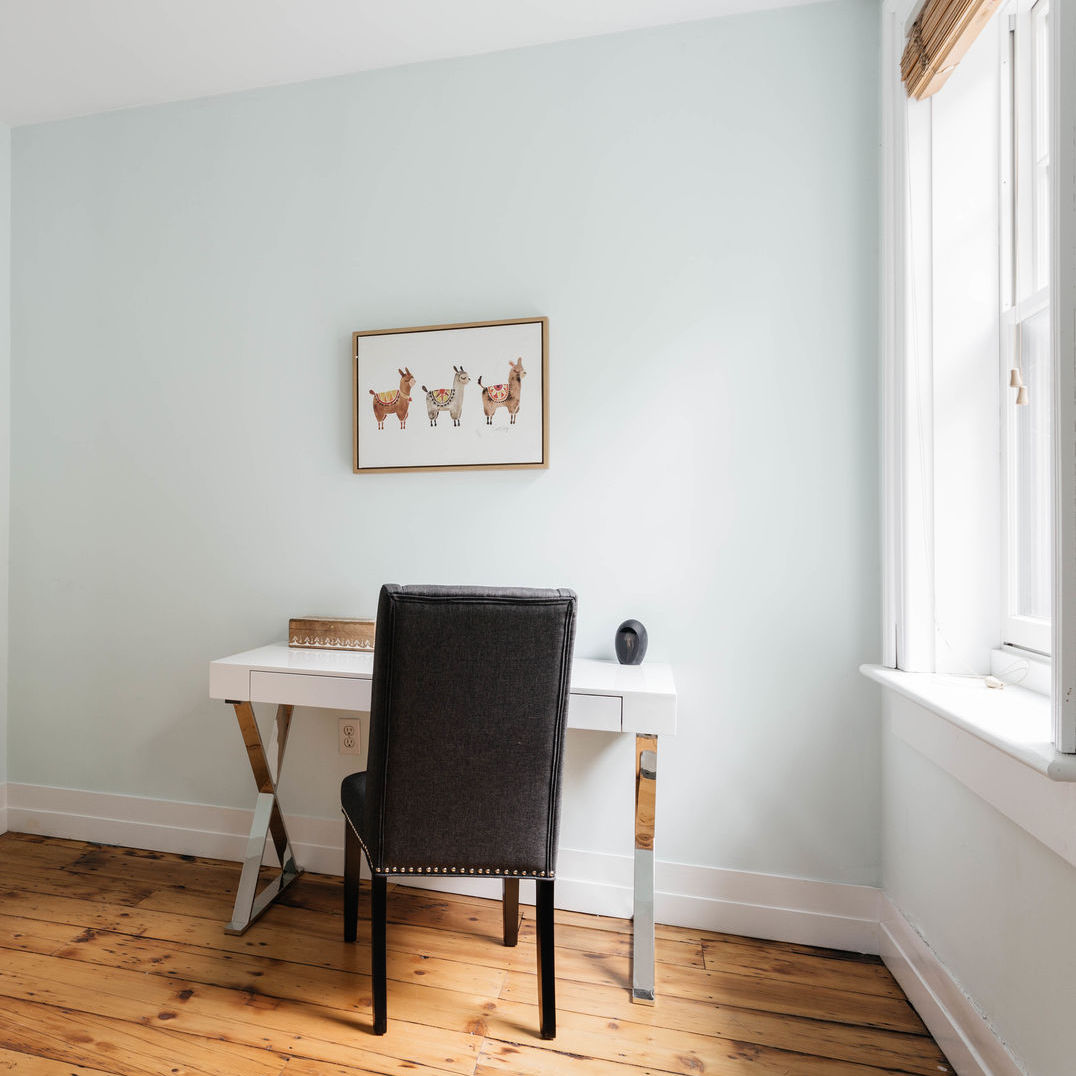 If your work requires constant creativity, then more sunlight is necessary. A 'thinking' accent chair with a laptop side table might be needed for some inspo time. Painting the walls or having inspirational artwork could be good for this setup. A convenient window treatment solution can help block the sunlight when needed. You will need a desk (sit/stand?), office chair, accent chair, side table, storage, window solution, a decor budget, and perhaps a tree or plant.
Solopreneur
Desk – Choose one with storage
Office Chair – Make it comfy!
Accent Chair – For reading (optional)
Side Table – For reading (optional)
Storage – Choose pieces with drawers rather than open shelves to contain clutter.
Window Solution – Flexible for light control
Decor Budget – Use personal items (low cost / free)
Tree or Plant – Choose low-maintenance ones
Total
$1800 to $3500
Home Office for Clients
If this home office is actually a client receiving office, then the location of the office should be as close to the entrance as possible. This can spare you from cleaning the entire house everyday. Your budget will of course be determined by the size of your space, but there are a few items most spaces will need. You will need an executive desk, nice office chair, two guest chairs, perhaps a sofa+chair combo for casual meetings, a meeting table if space allows, closed storage pieces, ample lighting, a decor budget, and a tree or plant.
Home Office for Clients
Executive Desk – Make sure there's a modesty panel
Office Chair – Make it comfy!
Two Guest Chairs (or sofa+chair combo) – Style over comfort
Meeting Table – Round tables are more collaborative
Closed Storage – Yes!
Ample Lighting – 1) Pot lights are best to light up all corners of the room. 2) Use sconces (more $) to minimize clutter in the room, or 3) tall table lamps in different corners of the rooms.
Decor Budget – Choose conversation pieces, maybe a large photograph of your fav vacation, or a piece collected from travel, or artwork that illustrates your company's motto
Tree or Plant – Choose low-maintenance ones
Total
$2500 to $5000+
BUDGET SPECIFICS
Okay, okay. We know you came here to start getting specific about the budget for your new home office.
If you are setting up a full room office space totally from scratch, you're looking at $2500 to $5000. The price comes down a little if you are designing a desk nook within a larger room, like a bedroom or living room, or if you already know your current furniture will fit in the new space. In these scenarios, you're looking at between $800 to $1500.
Alternately, you may find that a shared office space is a better solution for your business needs.
We hope this has been helpful!
Do remember to set aside money for framing art and hiring someone to install any larger pieces of furniture. Or just call us, and we'll take care of it all in a single day. Our designers are here to make your space stylish and functional.
We do big and small home offices, and we also do actual commercial office spaces! So if you show up to your new job and their office needs a facelift, you'll know who to call ;).