It's that time of the year again – time to go back to school. Whether you are moving across state or internationally, going back to school is a stressful transition. Chances are your room is going to be too small, extracurricular activities will be happening 24 hours and late-night cram sessions and social obligations take precedence over hygiene. With all that going on the last thing you want is to come back to a room that doesn't look or feel like home. 
From balancing a new schedule to reconnecting with friends, the task of decorating your room doesn't seem like top of the list priority. In reality, studies show that a clean and clutter free environment not only increases productivity, but helps with boosting mood. Give your room some love and turn it into your own safe haven but before you rush to your nearest Ikea remember that different schools have different rules and regulations on what can be brought into residence. For health and safety reasons some dorms may charge fines for altering rooms so be sure to understand your school's regulations before you start shopping. With that being said, here are 5 easy ways to decorate your college dorm.
1. Rugs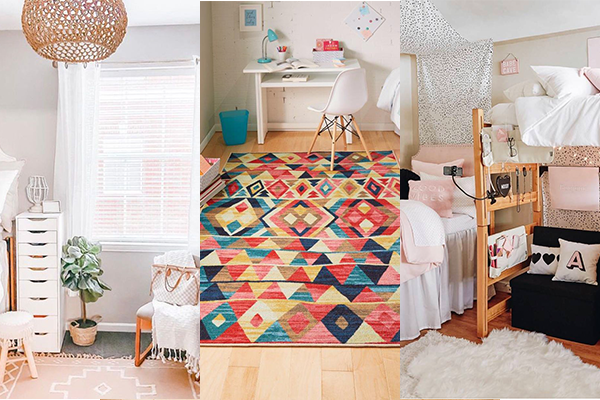 Rugs are a great way to bring life and color to an otherwise cold and clinical space. If you have vinyl floors ask to see if rugs or carpet is allowed. These are easy multipurpose items that can warm up a floor, add visual or textural interest, define or frame a space, conceal stains from previous tenants or protect spill prone areas. 
Select a soft and cozy area rug for your sleep or study. With fall and winter around the corner your feet will thank you first thing in the morning and your neighbors will thank you at night for the lighter back and forth pacing you do when cramming.  
Select a functional bath mat or bath rug if you have your own private shower. Bathrooms are usually more neglected in dorms and can most likely use a decorative touch. 
Remember scale and proportion – make sure the size of your rug suits the size of your room. Rugs invite a personalized look and enhance the overall style of any space.
2. Walls and Posters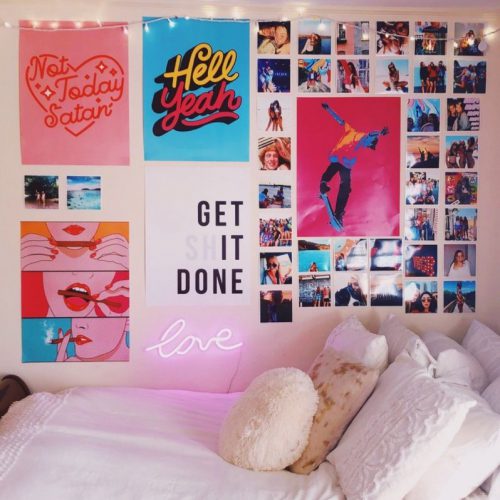 Perhaps the most fun part of decorating any student resident are the walls. Walking down the hall you can quickly gather what type of student resides in each room based on their walls. They are essentially blank canvases for you to express your own unique style. Because of the strict rules on hanging items, you really need to get creative.
Use sticky tack, sticky wall mounts and removable adhesive hooks. Put up posters, flags, create a photo wall or hang fairy lights. 
If you enjoy painting and drawing – turn your room into a private art exhibit. It's a great way to showcase your work and can act as inspiration for your next project. 
Try peeling and sticking wallpaper and cover one wall in your room. This is an easy and cost friendly way to put in an accent wall. 
Ready-made wall decals and murals are also great to consider. 
Things that speak to your interests give your room more character and make you feel more at home.
3. Bean Bag, Futon and Ottoman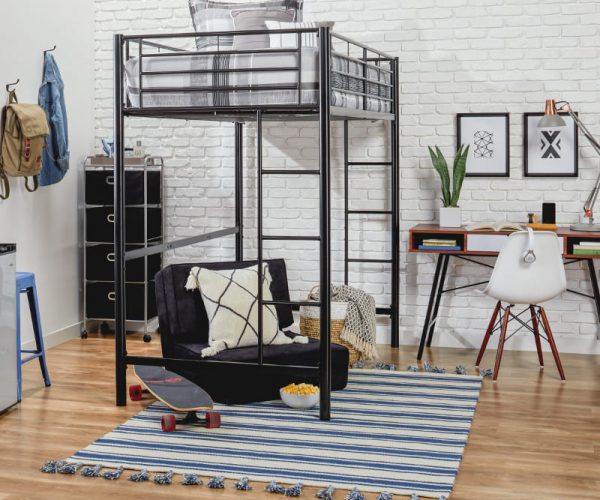 Don't be that lonely student with only one chair. Though you are going to be alone for the majority of the time, you may have visitors once in a while and having additional seating is great for when you want to lounge or switch positions. 
In addition to function, seating offers a decorative element and evokes a homey feel. Because of the limited space, you may want to consider some multipurpose seating options. 
Throw a bean bag or pouf in a corner for guests. This can also act as an ottoman and is fun, comfortable and easily packed away when not in use. 
Consider an actual ottoman that acts as both seating and storage. The hidden storage helps with keeping clutter out of sight and gives you more real estate to play with. 
A futon can double as a mattress and a seat. You can opt for that instead of a mattress or keep one around for guests and sleepovers. 
Floor cushions can double as seating, décor and back support. If your bed is on risers, you can easily store them underneath.   
4. Organization/Storage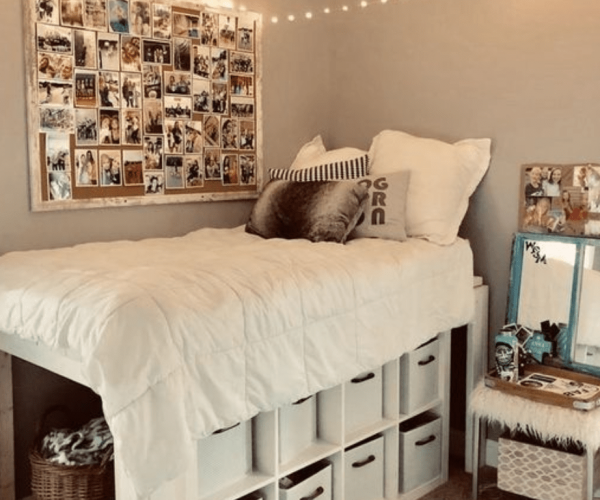 Space management is a huge consideration when moving from home to school. It may be further limited if you have a roommate. Closet organizers, storage hangers and freestanding shelving units keep your room neat and tidy.
Stackable baskets and bins and hampers come in a variety of patterns and colors. Even waste baskets can play a part in decorating next to your desk or in the bathroom. 
Put your bed on risers and use bed storage containers underneath. Keep them hidden with a beds skirt. 
Lean a full-length mirror against a wall and hang scarves, hats and other accessories on the corner.
Over the door organizers maximize space and wheeled utility carts conveniently stow items neatly.
Most items are multipurpose to save on space and an organized room means extra space for decor without looking cluttered. 
5. Lighting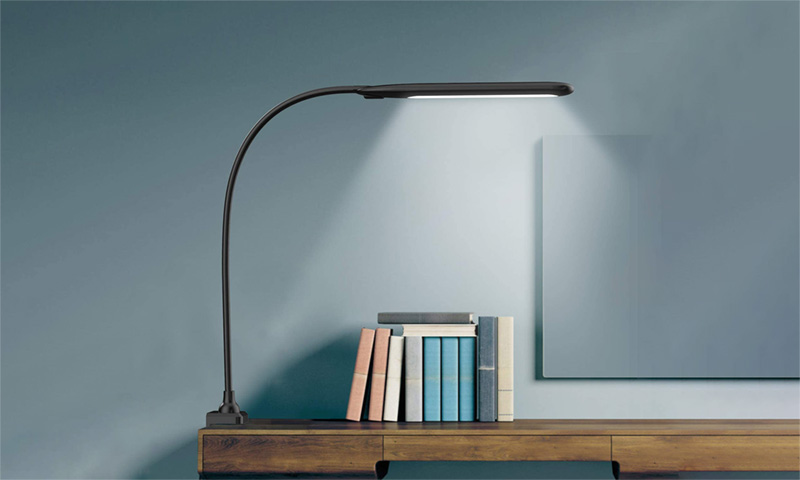 Make sure to include a variety of different lighting for different tasks. Lighting changes the mood of any area and if your dorm doubles as a bedroom and a living space you want to include lights that reflect your activities.
For bed and relaxation focus on ambient lighting. Fairy lights give off a whimsical and calming mood, lava lamps are relaxing, and shaded bedside lamps are great for phone conversations and winding down.
For studying and extracurriculars focus on task lighting. Direct light from floor and table lamps are a must for studying, reading, gaming and artwork.
With college being a stressful time, you want to ensure your place can offer both a productive and calming atmosphere.
Transforming an empty room into a sanctuary for students is important for productivity and mental and physical wellbeing. In learning how to decorate your room you will quickly realize that the task is much different than furnishing any other space. In dormitories there are so many factors that need to be considered: limited space, rules and regulations, multipurpose areas etc. Given these limitations, it requires creativity to make a school space feel like home while still being functional and practical. Try your hand at decorating your dorm with these 5 easy tips. Talk to current students about what to bring and how they style their rooms. Mature students have a better understanding of what to expect, what works and what doesn't and can help cut down on time and costs. Watch out for ads for dorm room décor and get in touch with your roommate for color coordination and splitting costs. This will ensure a smooth transition from home to school and will make your space a true home away from home.