You are here probably because you have an Airbnb or short-term rental that needs to be furnished. Here is an airbnb furnishing checklist to help you design an Airbnb rental home that is beautiful and accommodating! We know for a fact that a beautifully designed Airbnb attracts more guests and generates a higher nightly rate for the host. For instance, a decent studio in New York City can be rented for $150-350 for a night, but its potential can be $650 or more per night if it can accommodate more guests and have more amenities included.
It's a fact that we regularly see high ROI (return on investment) in furnishing Airbnb rental units nicely. We believe branding your unit as a luxury retreat can help you generate more profits in the long term. We have been furnishing luxury short-term stay homes and Airbnb rental properties over the years and we know what are needed to help your property stand out in the crowd. 
Furnishing Service For Airbnb and Short-Term Rentals
Furnish For The Vacation Experience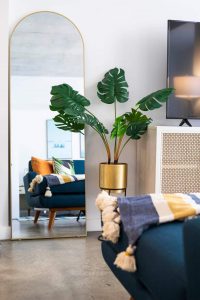 You may think that cleanliness is the biggest influence on a customer's ratings. It's true that cleanliness is the baseline to your guest's comfort and a 5-star review. Besides that, having decent looking and comfortable furniture is another major factor on your rental prices. Consider people traveling to a big city like NYC for fun or for work. They want the entire trip to be a positive experience! Thus, the interior design quality of their accommodation can take their whole experience up a notch. Not only that but many successful short-term stay companies and our customers like OneFineStay and Sonder have shown that Airbnb guests will pay big bucks for nicely designed homes when on vacation.
When thinking about furnishing, it is also not just about putting furniture into an empty space. Think about the guests' vacation experience. Are they usually a family with children? Or are they usually couples or friends? Know who your guests are will determine what kind of vacation experience you need. And the airbnb checklist will change based on the experience you want to create for your guests.
Regardless, this Airbnb host checklist provides you with a detailed description of the furniture, accessories and essential items you need to set up an Airbnb property and earn some extra money. 
A final tip: Even if your unit is in a great location, terrible photos can make people skip right over your listing. It's no wonder that Airbnb has started offering photography services for hosts to make sure they have decent photos. So — once you complete the checklist below, don't forget to go get some high quality photos taken!
Airbnb Furnishing Checklist - Furniture Packages With Accessories
In this checklist, we are starting with the essential furniture and accessories you need for each major room first. We know every room in every property is unique. Our suggestions are for the key pieces every Airbnb should have to make a comfortable stay for your guests.
Bed with a nice headboard
An upholstered bed gives a warm cozy feeling to any bedroom
Don't use a storage bed, because guests are more prone to leave things behind if you give them more drawers in different pieces of furniture. It'll just become an operational hassle
Mattress (at least 8" thick)
Vacationing and work travels are tiring. Make sure you give your guests good nights of sleep with a decently thick and firm mattress
Memory foam mattresses are more durable than spring mattresses because there won't be any broken coils
Soft memory foam mattresses can sag on odd sides over time. You can easily just turn and/or flip the mattress to extend its life
Memory foam mattresses are also cheaper to replace
We also suggest using a mattress case, which is a fabric cover with a zipper used to protect the mattress from bugs and dirt. In the event of messy guests and messy stays, you can just replace the mattress case and keep the mattress
Dresser or chest of drawers
You need at least one storage piece in the bedroom. A luxurious bedroom should not ask your guests to live out of their suitcase.
A wide dresser with 6 drawers is ideal since there can be two people sharing this room
Nightstand or side table
There needs to be a surface area to put a table lamp, an alarm clock, a book, and a phone.
If you have a dresser already, you don't need more drawers on the nightstand. Again, the more drawers you give your guests, the more chances they will leave things behind
If your bed is centered in a room, place one side table on each side of the bed to create symmetry
Mirror
Everyone needs to look good before they head out to make sure there is at least one mirror in the room, even if there is an attached ensuite bathroom
Place the mirror above the dresser or have a free-standing floor mirror
The mirror is also a decorative item so find one with an interesting frame
Lighting
Some guests might enjoy staying in to read a book or work some more. Make sure there's ample lighting for the night.
Floor lamps and table lamps are both great options.
The lamp(s) can also be another design feature in the room so pick wisely!
Bedding
For the pillowcases, bed sheets, flat sheet and duvet, use the same set in white. Don't mix and match from different brands because the white may be different.
And let's not be too creative with the color matching or color blocking in the bedding set. Guests want to see clean white sheets on their beds to feel comfortable sleeping in a stranger's room
Place one simple throw pillow to glam up the bed
Arts And Rugs
Arts and an area rug will add more colors and patterns to the room.
The nice and thick rug will keep their feet warm and soft in the morning.
Though they are optional, rugs do add the luxury touch to any bedroom
Living Room Airbnb Furnishing Checklist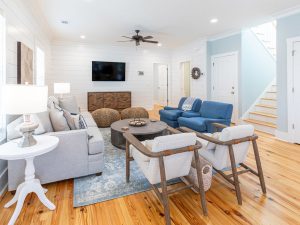 Sofabed (with pull-out mattress)
Increasing occupancy in the unit increases rent, so a sofa bed is essential to increase your return on investment.
It's also important to differentiate a sofa bed with pull-out mattress and a fold-down futon.
Sofa beds with a pull-out mattress means there's a proper mattress underneath the seat cushions. There is a lift mechanism that lets you pull out the mattress easily. These sofa beds are made to be comfortable for seating as well as sleeping. The mattress, though is thin, is a firm memory foam mattress that guarantees you a good sleep without having to feel the hardware underneath. These sofa beds are at least twice as expensive as futons but they are more structurally sound and are worth the investment.
Fold-down futons, on the other hands, are made a simple frame and a gliding mechanism to fold down the back cushions of the sofa to make it into the size of a twin or double bed. There are usually 2 or 3 back cushions and 2 or 3 seat cushions, so you will feel all the gaps when sleeping.
Coffee table
A coffee table provides a surface area to place drinks and snacks in your living space.
There are many lift-top coffee table designs that let you use it as a workstation which is a nice feature to sell on your listing.
Lighting
Many apartments don't come with ceiling lights. Whether you get much sunlight or not through the windows, you will need at least one floor lamp.
You don't want your guests wandering around in the dark and walking into walls or furniture!
Smart TV with built-in streaming services
For nights of staying in, there should be a TV for Netflix, Apple TV and other streaming services
Connected to a Chromecast, your guest will be more choices for entertainment
Our Stylish Over-the-Top Welcoming Kit
Creating a stellar vacation experience is more than what items you have in the space. There are unique instagrammable touches that make your guests feel your love and care for their experience and your home. In return, guests who appreciate your caring gestures will show care and considerations during their stay as well. Best of all, they will rave about your Airbnb to their friends and families, getting you more rental income. 
Here is our list of finishing touches for your Airbnb checklist: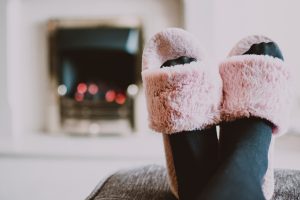 Universal phone chargers for androids, iPhones and other brands
Outlet converter (for travelers from outside of North America)
Flip flops or slippers
Bathrobes
Yoga Mat
Speaker for music
Chromecast
Safe (combination)
Finally, you want to get your entire home set up ASAP so you can start making money right away. Most Airbnb hosts and vacation home owners lose out on the rent for the first month because they take too long to set up the home and take photos of the entire place. Just remember that a rental home isn't your own home! You do not have the luxury to take your time to shop for furniture and each item with care. In other words, the more time you take to set up the home and take nice photos of each room, the more money it will cost you. This is exactly why people hire us.
Need help furnishing your Airbnb?
We can help. We furnish every room with furniture, accessories and all essential amenities to get your property guest-ready.
Other Amenities And Essentials
In addition to furniture, you need to provide other living essentials and basic amenities for the kitchen and bathroom as well to make this Airbnb rental the "home away from home".
Living Essential
Iron & Ironing board or steamer
Hangers for each closet
Trash can in each room
Kitchen Essentials
Plates, bowls
Cups, glasses and wine glasses
Utensils
Cutleries
Can opener
Pots & Pans
Cooking utensils
Coasters
Toaster
Kettle
Bathroom Essentials
Hair dryer
Bath towels
Hand towels
Hand soap
Shampoo, conditioner
Body wash
Toothpaste
Mouthwash & disposable cups
Disposable toothbrush
Air freshener
Extra toilet papers
Hooks on the door
Furnishing Cost Calculator
Use this calculator to estimate how much it costs to furnish your Airbnb property
There are also other welcoming gadgets to make your apartment feels like home for your guests. In particular, if they love your unit, they will return next time and recommend you to their friends.
Furnishr Review for Airbnbs
Our customer, Jason, got the keys to this beautiful townhouse in West Village of Manhattan last month and we furnished the entire house the next day. His first guest checked in three days after he got his keys.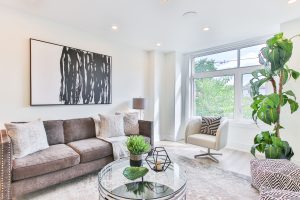 All he gave us was a floor plan, his budget and how many beds and sofa beds he wanted. We took care of everything else; from deciding on the colour scheme based on his preferred style of the home, selecting the furniture, selecting the accessories, space planning to delivery and setup in one day.
Jason's budget was $15k for 3 bedrooms, 1 living room, 1 dining room, 1 kitchen, 1 basement studio and an outdoor patio for a total of 8 rooms. The average cost for the living room, dining room, bedrooms and basement studio was $2000 which includes all the furniture and accessories. The outdoor spaces and kitchen cost about $3000 in total.
Although it is a big cost up front, he is now able to brand it as a luxury, high quality Airbnb rental and charge  $800-1000/night to rent out his entire home. The cost of furnishing the whole home was paid off within the first half of the month.
With Furnishr's help, you can soon be on our way to receive great reviews with your Airbnb fully booked each month.