How to survive and thrive at your holiday office party
The holidays are a busy time, and it's easy to find yourself feeling too sick and tired for a holiday office party. Even Santa takes a good rest each year. But you deserve to celebrate all your hard work! So try to watch your health this month and take care of yourself, okay pals?
Prepare Yourself
It's a good idea to think ahead to the day of the holiday office party. For example, if you're an introvert, you might try not to schedule other social events in the days surrounding the party. And you could let your housemates know that your nervous system will need some quiet alone time when you come home that night. If you get a plus one, think about who will be good company. Etiquette says you should check with your significant other — but maybe they don't actually want to attend! Maybe instead, you have a close friend who would love to see inside your office and meet your work friends.
If you get low blood sugar or have dietary restrictions, try to have a snack before the party. And if you work for a big company, review LinkedIn for a refresher on your coworkers' names and job titles. If you experience social anxiety (or if you find your coworkers boring or intimidating), it's totally cool to prep some conversation topics. Talk about your holiday plans and ask about theirs. Ask if they do winter sports or if they like to bake. Otherwise, make sure to hydrate, dress comfortably, and get ready to cut loose!
At the Party
When you arrive, try to talk to new people, and try not to talk about work. But mostly, focus on having a good time and celebrating all your hard work! After all, this party is supposed to be a reward for everything you've achieved on behalf of your company. So enjoy it! Emily Post encourages you to say hey to your boss. It's totally okay to take the opportunity to connect with upper management who you might not usually see in person. But don't try to impress them by reciting all your achievements. Instead, impress them with your restraint, your calmness, and your conversation skills. Try sharing what you've been working on all year, what you love about the company, and asking them about their career.
This might sound lame, but try to check in with folks about social media posts. I know, I know, it's almost 2020 (!), but you never know what people are going through. For instance, maybe someone cuts loose and drinks more than they anticipated. Or perhaps they're stepping out with a new partner but it's not quite public news yet.
Do not rely on alcohol as social lubricant. Some office parties don't even offer alcoholic drinks, since it can be tempting to overindulge. Here's a Pro Tip: Don't interrogate people who aren't drinking! Maybe they're pregnant. Maybe they're an alcoholic. Or maybe they just don't feel like it! In the end, it's none of your business if people choose to imbibe.
Lastly, have an exit plan, and try to say goodbye to folks before you leave. Want a real pro tip for nailing office parties? Show up at work the next day in top shape. Hangovers don't feel nice and they don't prove anything.
If you're on the planning committee
This can be a really good way to make sure the party is good! Order the food you like! Bring in a bunch of adoptable puppies! Being part of the preparation process can help you feel more excited to attend. If you're the planner, you have the opportunity to prioritize accessible activities, eco-friendly decor, and food from local businesses.
And remember, it's really nice to let people know ahead of time what to expect from the party (dress code, food, activities, duration). Sharing this information increases the likelihood of people actually showing up to the holiday office party. It also gives you the opportunity to get credit for your hard work. Some people have kids and pets, and they need plenty of warning about parties. Ask the company if they'd consider offering a babysitter stipend. Alternately, the company may wish to cover cab fares home to ensure folks can celebrate and still get home safely.
Activities
Nobody likes to be forced to participate in games or activities. PLEASE don't force anyone to do something they don't want to do! It's generally a good idea to balance high-energy, collaborative activities with low-key solo activities. For example, everyone can enjoy the opportunity to win a door prize via raffle ticket. You could give away extra company merch, or see if any coworkers can contribute tickets or goods. Maybe they have a side hustle making jam! This can be a great way to foster relationships at the end of the year and spotlight people for who they are outside of the office. Setting up a basic photobooth is another good way to encourage people to celebrate. Just set up some lights, add a basket of props, and people can take their own photos.
Too often, gift exchanges become inappropriate and awkward. If you do a white elephant or Secret Santa gift exchange, consider setting a theme like books or edible treats. No more fluffy nipple clamps for Barb the receptionist! Another option is to do something charitable as a team. Donations of canned food, socks for the homeless, or toys for needy children are a good way to give back together.
Finally, to encourage bonding and gratitude (and increase retention!), you could invite people to do some professional reflecting on their best moments of the year and their career goals for the New Year.
Food
We recommend finger food and bite-sized snacks for a holiday office party. Whether you're getting it catered or preparing the food yourself, smaller servings reduce waste and allow people to eat exactly the amount they like. It's really easy to buy stuff in bulk and then portion it into smaller servings (like a brownie pan cut into cubes with toothpicks, for example). If it's a potluck, here are some ideas for easy, impressive, and inclusive dishes to bring.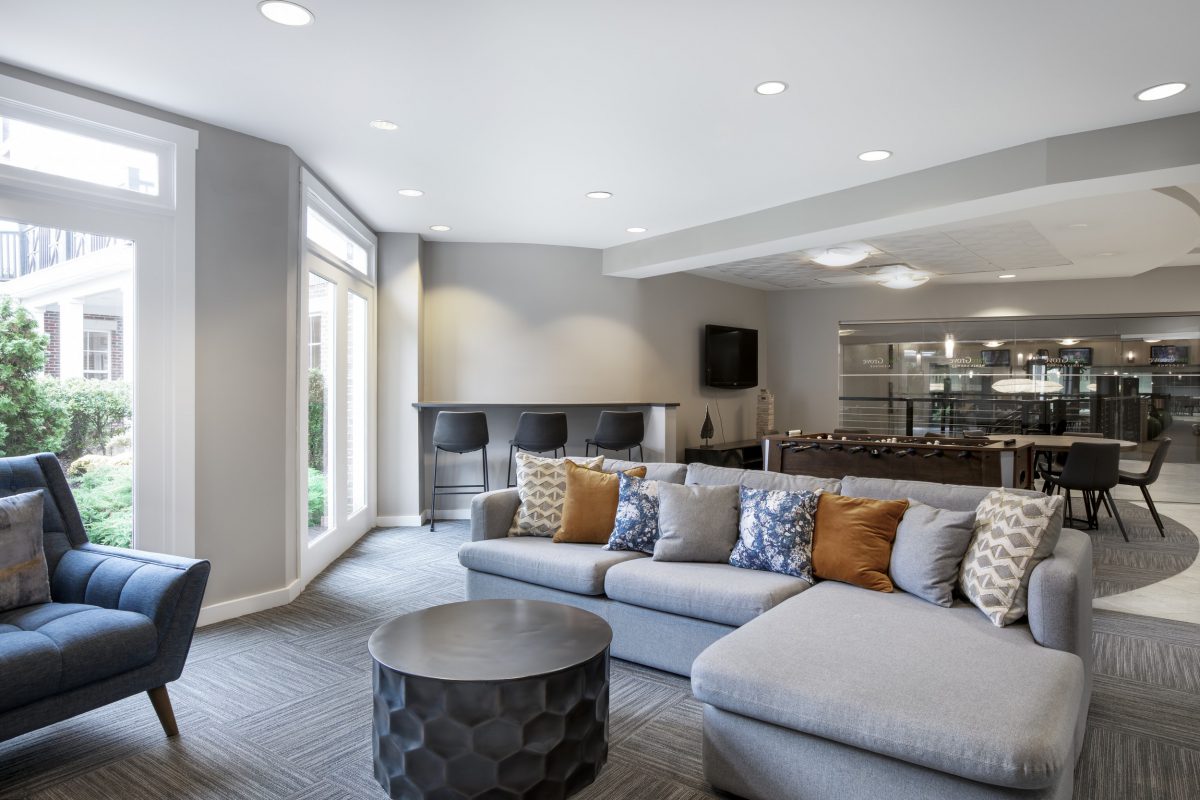 You could send around a Google Survey to collect people's dietary restrictions. Either way, try to include some halal, kosher, vegan, GF, keto foods. You could also look for a local food truck to cater your event. Winter can be a slow time for them, so this is a great way to build relationships while supporting local businesses. Cookie decorating is a fun and low-key holiday activity! Buy a bunch of premade sugar cookies (or support a local bakery) and grab some sprinkles and frosting. Remember to ask people about their food allergies beforehand, or plan to have stuff on hand that everyone can eat.
Drink
A super way to make your holiday office party inclusive is to offer non-alcoholic drinks. I'm not talking about boring cranberry ginger punch or sparkling water.
Check out Temperance Cocktails for high-quality, beautiful, thoughtful recipes, ingredients, and party services for people who don't drink alcohol. If you're in Toronto, they can come to your party and make gorgeous non-boozy beverages. If you're not, they can ship them to you! Please please please, remind your boss that you need to have non-alcoholic drink options at your holiday party.
Decor
Only put up what you feel like taking down again at the end of the night. And remember that not everyone celebrates Christmas! Wintery decor is plenty festive and more inclusive. Also, climate change is real and single-use plastic is not cool — it can be easy to put up seasonal decorations without relying on Dollar Store plastic ornaments.
For instance, you could grab your office projector and play classic movies like It's a Wonderful Life on a blank wall. Set out paper and scissors for people to make their own paper snowflakes. Hit the thrift store for some gently used garlands and kitschy globes. We recommend a simple color scheme to keep things classy. This also makes it easier to coordinate and delegate if a group of people are buying decor separately.
Feeling Lazy?
If you really want to avoid doing any intense party planning or decorating, then just do in-office stuff. For example, you could organize a casual in-office advent calendar countdown. The company could give away gifts on each day leading up to the last of work before the holidays. Items could be simple, like tangerines, candy canes, tickets to a play, or hot cocoa packets. You could do an in-house catered lunch and invite people to wear ugly holiday sweaters. Set out a wintery puzzle for anyone to work on. Surprise your employees and decorate the conference room, Elf-style.
You could also organize a desk-decorating competition, or a lunch hour cookie cocoa meeting. Or book an out-of-office activity and avoid having to clean anything up! The boss could schedule massages for everyone. Suggest taking your team to a holiday-themed escape room and then going out for pizza. Make sure that it's an accessible space, and you're done and dusted!
Alternatives to Holiday Office Parties
Alternatives to holiday office parties? We're glad you asked!
Consider doing something family inclusive. Why not open up your office party to employees and their families? The holiday season is always busy, and all too often people spend more time at work than with their families. Float the idea with your team and see if they're interested.
Or, don't do a holiday party at all! Typically, large corporations have held their annual parties around Christmastime to celebrate the end of the fiscal year and hand out year-end bonuses. But we live in 2020, and most of you reading this probably work for more interesting companies. So why couldn't the company plan their big annual party for summer instead of winter?
In the end, a holiday office party is all about celebrating hard work and coming together as a team. So we hope you enjoy yours! Happy holidays from Furnishr.