Naveed needed style advice and a quick turnaround to furnish his rental property. Furnishr was able to transform his empty condo into an attractive, furnished rental in just two weeks.
Homeowner: Naveed
Location: Toronto, ON Canada
Delivery Lead Time: 2 weeks
Project Purpose: Airbnb Unit
Room: 1-bedroom apartment (living, dining, master bedroom)
His Style: modern comfort
Naveed's Airbnb Unit
I came to Furnishr with a floor plan and a two-week delivery lead time. The project purpose was to create a furnished Airbnb unit. I'm a realtor and investor and I wanted to start renting out my new condo as a furnished rental unit. I had done some research, and I knew how much I could add to rent for a furnished apartment (versus unfurnished). My target tenant demographic was young professionals who travel to Toronto for short business trips or weekend trips.
The sticky situation
I don't have any design expertise. I knew I needed some style help, but I couldn't afford to wait for months. And that's how long most other interior designers take to complete a project. For every day that my place sat empty, I would be losing money on my investment. I needed a stylish place, but I needed it done ASAP.
And what should a furnished rental include? I did research on landlord furnishings and fully furnished apartment checklists. But ultimately, I needed someone to look at my specific floor plan. I ultimately went with Furnishr because they were able to handle everything including the interior design, delivery and set up. Their turnaround was the quickest on the market, and their portfolio showed that they know how to furnish a rental property.
Furnishr's design solution
After our initial consultation, the Furnishr designers quickly presented me with three different designs to choose from. They covered a good range of styles and costs. Honestly, I didn't care too much about the design. I trusted Furnishr to know what good design was.
One thing that was really important to me was to get items that could survive a lot of wear and tear. Furnishr understands landlord furnishings, since they design for a lot of rental units. So, they only use really durable furniture that can stand up to years of high traffic use. I selected the option with fairly neutral furniture, and some colorful pops in the accessories.
Number of Items: 12
Total Project Cost: $7,236 USD
Furnishr's delivery solution
This part was so easy. On delivery day, I just left my keys with the concierge in the morning, who let their three-person delivery team inside. When I came back in the evening, everything was completely done. The whole unit was clean, set up and ready to be photographed. I also ordered their move-in package, which included bed, bath and kitchen accessories.
So by the end of move-in day, my condo was furnished with everything necessary to start renting it out ASAP. Now that's how to furnish a rental property!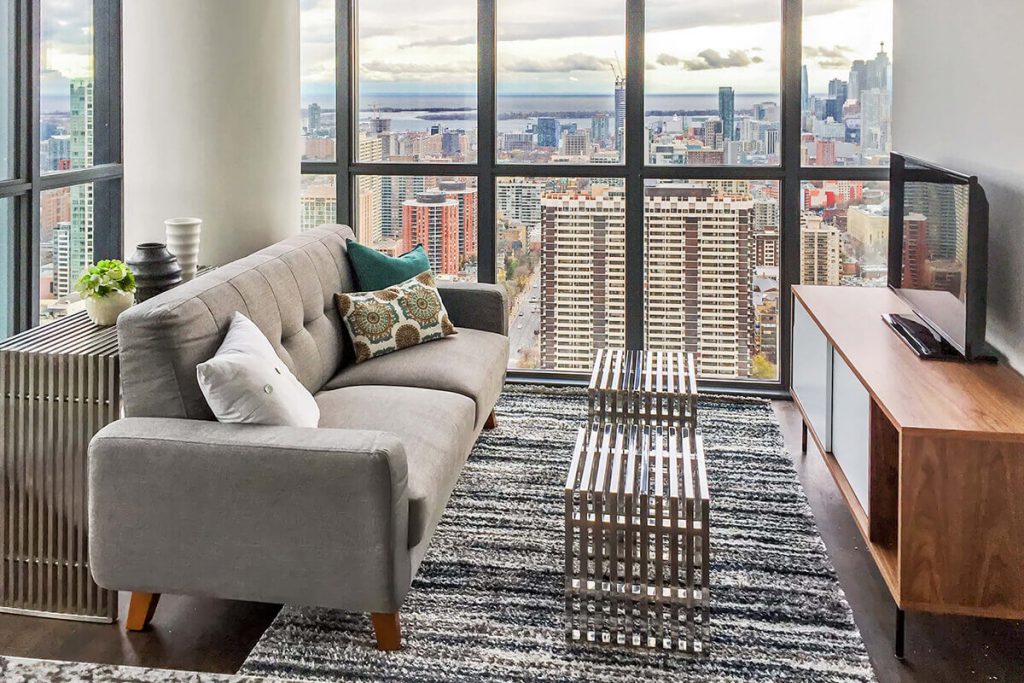 Results
It's clear that their designers know their stuff – my unit was rented out within one week of Furnishr's delivery. I was really pleased with the look and the quality of all the items they picked. They really captured a style that appeals to my target demographic. Plus, the rental income I get from this furnished property is actually 30% higher than my other unfurnished units.
Overall, Furnishr's customer service team went above and beyond to make the whole process easy for me. I would definitely recommend Furnishr to other investors. Their design-and-furnish method seems almost too good to be true, but it really does make the most sense for property managers who don't have a lot of time but need high quality designs quickly.
---