We furnish short-term rental properties and vacation homes for homeowners all the time. Most of them actually live out-of-state from the property. They always start by asking how to furnish a short-term rental remotely. Well, Furnishr is one answer. 
Furnish your short-term rental remotely in one day
We specialize in furnishing the entire home with all the furniture and accessories you need. The delivery and installation all happen in one day. For remote homeowners, there is little time they can spend at the property. The furnishing part can all be done in one day. 
Furnishr helped Pam and John furnish their second home. They live in New York, and recently bought this gorgeous beachfront house in Georgia as an investment. Our goal for the property was to produce income as a vacation rental, and also provide a place for their family to vacation. Like many remote homeowners, Pam and John had the same question of how to furnish their vacation home remotely. We want to share an interview we did with them after we furnished their second home.
Pam & John needed a coordinated design-and-delivery solution for their out-of-state 5-bedroom investment vacation home. They needed a one-day delivery within 4 weeks, too. Furnishr gave them a stylish and profitable design that will let Pam and her family enjoy for years.
Homeowners: Pam and John
Location: Tybee Island, Georgia
Delivery Lead Time: 3 weeks
Project Purpose: Investment property, second home, part-time vacation home, full-time short-term rental property
House: 5 bedrooms, large patio, basement games room
Their Style: Modern farmhouse
Where were the challenges in furnishing your vacation home remotely?
We have furnished and decorated our primary home. Overall, we enjoy the process. However, this new property is in a different state. We searched for the property and negotiated the closing almost completely remotely, via phone calls, emails and zoom calls. Although we planned to travel to the property a few times, each visit will have to be short since we live 8 hours away.
Also, we were not familiar with the town. Each time we visited, we were learning where to find the essentials. Furniture shopping was not a priority. If we were to order furniture online, everything would arrive on different days. We could not even request to have the furniture arrive on the same day. That's why we had to find a different solution that can let us manage the sourcing of furniture remotely.
What were the priorities when finding a remote furnishing solution?
Since we will be handling the process remotely, it is important that we work with a trustworthy company with a portfolio of projects and reviews we can check. I also needed a quick turnaround time. Because this 5-bedroom project would need a lot of furniture, I also wanted design help from someone who understands what is needed for a short-term rental property. From a google search and reading reviews from past customers, I found Furnishr.
I first submitted a design request with as much information as I could provide. Many documents about the property were outdated, but my Furnishr designer was able to understand the scope of work. I brought several specific requests to my Furnishr designer along with our floor plans.
First of all, I wanted a lot of multifunctional furniture like convertible sofa beds to help increase the occupancy. The furniture needed to be durable enough to hold up to high turnover, but also stylish and comfortable enough for my own family to enjoy. I knew which style I wanted, which was modern farmhouse, but I was eager to see how a professional interior designer would apply that style to our large investment house.
In the end, I was confident about Furnishr's design. I also reviewed their portfolio of investment properties like mine. Plus, they were able to deliver and install everything in one day. For a remote homeowner, that is a must, since we can only be at the property for a short period of time. Overall, their timeline was quick. It was 3 weeks between my order date and the delivery date.
Let's dive into Furnishr's process.
Furnishr's initial designs
I immediately liked the way they handled the design process! They were very responsive and flexible, and overall I enjoyed the process of working one-on-one with the designer assigned to our home.
So my designer Suzanne used the photos and floor plan I provided. Within a day or two of submitting my request, Suzanne had sent me an initial design proposal to review. I loved her designs! I liked that the proposal included several options for each space, so I could imagine different possibilities.
We did a quick phone call and I mentioned some specific areas I wanted revisions on. Mostly I wanted to mix-and-match a few pieces from her designs, plus add sofa beds to our living room and master bedroom to increase occupancy.
Furnishing a large house from scratch is not cheap. But I knew that stylish and high quality furniture would allow me to charge a higher fee, thus ultimately pay back dividends. An investment vacation home is, after all, an investment. I appreciated that Furnishr offered a fair price.
We finalized the designs for the main rooms in three revisions, and I left Suzanne in charge of the design decisions for the secondary rooms. This was all in the course of one week!
Number of Items: 50
Total Project Cost: $39k USD
Furnishr's white glove delivery and installation
I traveled from New York to Georgia for one week to see the delivery installed in person. Furnishr doesn't actually require the homeowner to be onsite for delivery day, but I wanted to oversee it and get the VRBO photos done all at once.
In the end, our 5-bedroom investment house was completely furnished in just 10 hours by a team of four movers.
The moving team was just lovely, and I felt so comfortable and reassured watching them handle everything in. They were gentle and efficient. And they placed everything in its proscribed place without any instructions from me!
Our rental property was immediately ready to be photographed and listed online. It's now a 5-bedroom luxury retreat that is ready to receive bookings. And I look forward to visiting with my own family soon.
What is the ROI of the furnished rental?
My new short-term rental is now listed on VRBO for +$400 / night. Our ROI calculations assumed a 20-day occupancy per month, in which case we would have $8000 / month of rental income. Even without taking the operating costs into account, we'll still break even on our furnishing investment in less than a year. That's pretty remarkable for the little effort it took to furnish the property.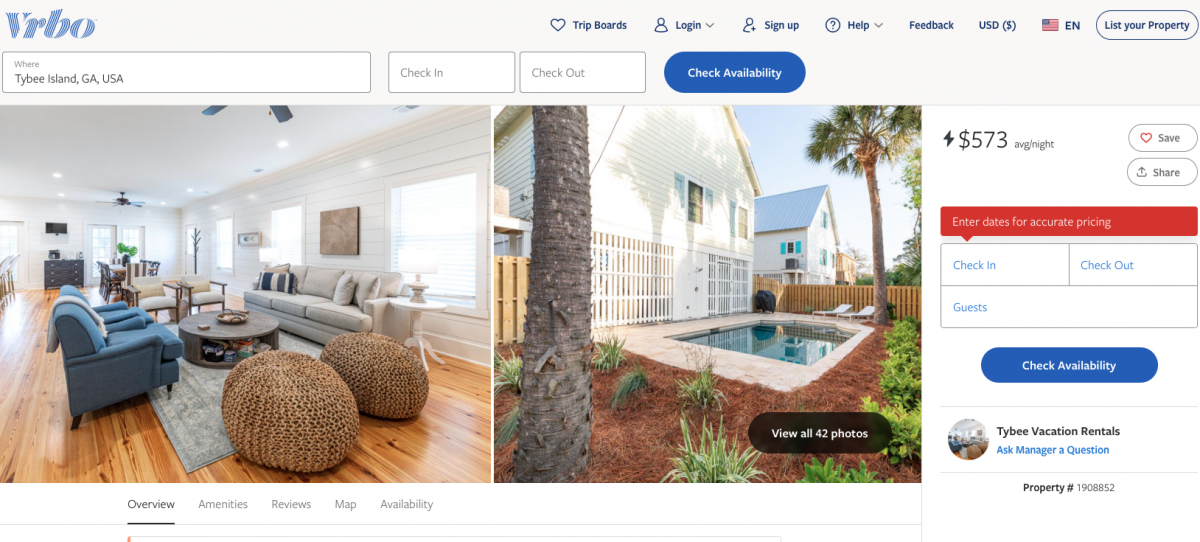 Trying to furnish a home remotely would have been very difficult without the help of Furnishr. The coordination of the full process of design, purchase, movers, install and removal of packing materials was done professionally and with a personal touch. Communication from its operation and design departments was exceptional.
I would recommend Furnishr for anyone looking to just spruce up a home to furnishing a whole home, especially if you need to do it remotely. Thank you Furnishr I could not have done this without you!
Need to know how much to spend on furnishing?
We have a furnishing cost calculator that can be helpful. Just select all the rooms you have in the property and select the approximate size, and you will see the budget range for furnishing.