According to the U.S. Census Bureau, roughly 35 million Americans move house every year. To some the thought of moving is filled with intimidation concerning cost, labor, and leaving family. But for many, transitioning out of an old space leaves endless possibilities for how you can create your new home. It's easy to be overwhelmed with endless design and decor ideas on what you want your space to look like. Having a starting point is essential. We've curated some tips on where to begin when creating your cozy and inviting home.
Make Your Home Yours
Your living room is probably where you're going to be spending a large chunk of time while at home, so ensuring it's an inviting and welcoming atmosphere is important. Always create a physical space for yourself to sit and quiet your thoughts, so you can relax from the stressors of everyday life. It will also contribute to better mental health.
Find the right furniture that not only fits the room well, but is comfortable and makes you look forward to relaxing after a long day. If you have company over, you'll want the space to accommodate them also. By requesting a custom design package, Furnishr will help you choose the best combination of furniture and accessories that fit you and your space. All the furniture and accessories will be delivered and set up altogether too!
Gallery Wall
Reminder of your best memories
Empty walls can make a room feel sparse and barren, the exact opposite of inviting. There's no better way to gain visual appeal in a room than to create a gallery wall filled with photographs. The gallery wall is where you can exhibit your own personal style by showcasing pictures in alluring photo frames that catch the eye. A gallery wall gives the sense of a lived in, homey feel. It's not only a great conversation starter when you have company, but you're reminded of special moments with friends and family as you pass by. Interchanging photos every so often can give your wall a refresh as well as highlighting other pictures that don't see as much traffic.
The perfect conversation starter
Paintings and art prints are another addition to feed your gallery wall. A study published by University College London revealed that looking at art can make you happier. Art induces feelings comparable to looking at someone you love. To find art that you enjoy and is unique and personal to you, look at online shops where you can find prints that are inexpensive, yet make a statement. Artwork can evoke dialogue, and because it's subjective, people can have different opinions on it. You're able to gain insight on what your guests interpret from the cool print that you've incorporated into the space.
Homey Aromas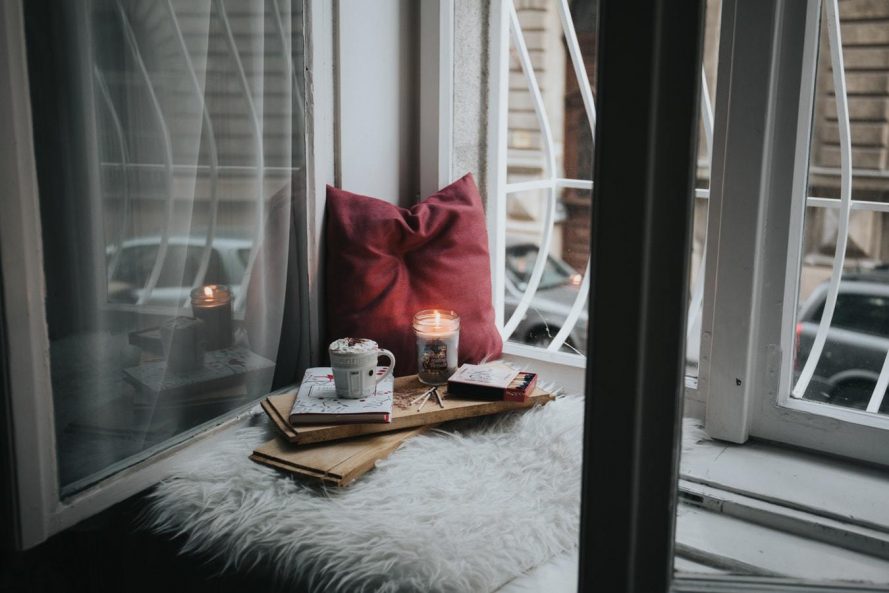 Something that isn't recognized often is the scent of a home. A fresh bouquet of flowers fill a room with natural perfume, plus they're a subtle way to enhance a coffee table or counter area. Getting a candle of a scent you enjoy will set a mood when you light it. A study from the Smell Report showed that pleasant fragrances have been found to have positive effects on moods in all age groups. When picking a scent for a room, consider how the smell will compliment the space and help enhance it. Be careful to avoid an overbearing scent that takes away from the room, a clean fresh fragrance is ideal for an area such as a living room.
A Pop of Accents
Use colors and textures in pillows and throws
Pillows and throws are a home accent that can add character to a home instantly. Find pillows that contrast the furniture in the room. This will give form and flow to your furniture, a variety of textured pillows will highlight a solid colored couch. Throws are a great addition to enhancing a home, you can lay one (or a few-the more you have, the cozier movie nights are) on a couch to add another layered element to the room. If you have neutral furniture, a brighter colored pillow or throw can complement the overall aesthetic and tie the space together.
Layering rugs is the trend
Layering multiple rugs in a room adds dynamic visual appeal to the space. Rugs instantly add a homey feel to any area and can help fill a space without physically cluttering a room. Playing around with different textiles, colors, and placements can accentuate your personal aesthetic when you walk into the room. Positioning one rug on top of another in a diagonal formation will create the effect of a walkway, almost leading guests to whatever furniture is lined up in the path. When placing rugs, make sure to consider the features and size of the room. It can be easy to go overboard and totally overwhelm a space if your rug choices don't fit the dimensions and color of the room accordingly.
Personal Memorabilia
Showcase only your most favourite items. Be sparing and tasteful.
Your home should reflect your personality and tell your story- design and decorate with personal items that make you happy. Making an inviting home is all about expressing your uniqueness and individuality so people can get a sense of you. Your personal style is the first priority in crafting your space, so highlight the things that cater to your taste. If you have a collection that you're proud of, don't be afraid to showcase it! A huge part in creating your home is to add elements that make you excited to walk back through the door, as well as inviting others into a space that you love. Your home is your own personal sanctuary. So you need to make it yours!