Small-space living is pretty much the new norm for most people in 2020. It seems like units keep getting smaller in order to accommodate more people moving to urban areas. But how do you design a small space or decorate a tiny house? Good news! Living in a small space doesn't mean you need to feel cramped or cluttered. By applying interior design principles and choosing the right furniture, we can help your small space feel big. Furniture should spark joy, right? This article focuses primarily on a small living room layout, since that's where people spend most of their time at home. But these layouts and space-saving tricks can be applied to small studio apartments, or even small master bedrooms.
From storage units to coffee tables, from task-based lighting to clever furniture arrangements, take heart! We've got interior design tips that can help you make any small space feel bigger. Use this list to help you make the most of what you've got. How do you make the most of a small master bedroom? What furniture should you get for your studio apartment?
We've got you covered, whether you're moving into a new place or just feeling smothered by your current layout. Scroll to the bottom for specific layout ideas, or read on for general tips on maximizing any small space.
If you're furnishing a space completely from scratch, then give us a call for your complimentary consultation. Our team of designers can combine your floor plan with your style preferences. We order, ship, and set it all up for you, all in a single day. Seriously, it's as amazing and easy as it sounds.
1. Work vertically
Less is more! Please don't cram a bunch of wide, bulky furniture inside your small space. You can use one or two larger pieces to anchor your space, like a low comfy sofa or your bed. But too many chunky pieces and you'll start to feel like the floor is disappearing. So keeping that idea in mind, look around your space. What pieces of furniture could you replace with a more lightweight version? Is there anything taking up horizontal space that could be reconfigured or replaced with a vertical version? Consider downsizes your bookshelves, choosing drop-leaf tables, selecting smaller coffee tables, or swapping out for smaller lamps.
Many small-space dwellers have folding or stacking chairs on hand, which can come out when needed but stow away minimally otherwise. Nesting tables achieve the same effect; they appear when you need them, but hide when you don't. Another good trick is to hang your curtains from the ceiling, and not from the window frame top. This helps the room feel larger. To maximize space, make sure your small space layout includes furniture with storage. More on that later.
2. Use light materials for a small living room layout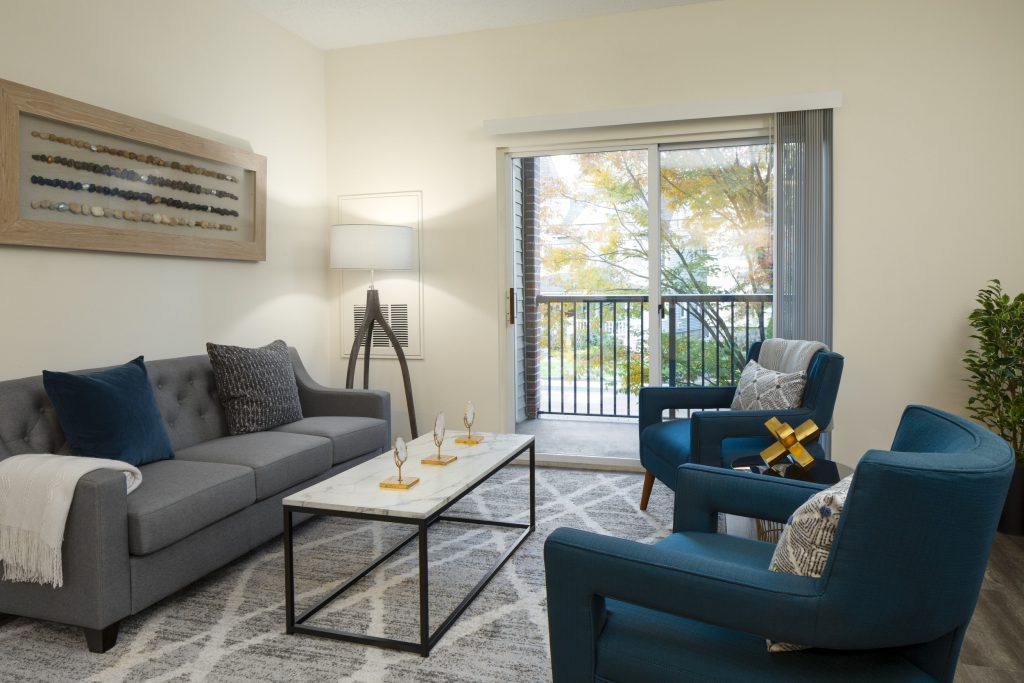 Glass or open shelving are classic interior design tips which can make small spaces feel bigger! If all your furniture is made of dark wood or black metal, you may start to feel closed in. In a small living room layout, consider using lighter materials to lighten the sensation of furniture on your eye. Glass, light colored wood, open shelving, and light colored metal like copper or silver are all great ways to keep the air flow moving.
Reflective surfaces help bring more light into the room, too. They can also help with clutter because all your stuff will be more visible! If you're a messy person (no shame!), consider using some stylish banker boxes to categorize and contain your items. Additionally, look for furniture with exposed legs rather than pieces that are flush to the ground. Floating shelves have the same effect. This can help your room feel more spacious and balanced.
3. Use appropriate patterns and textures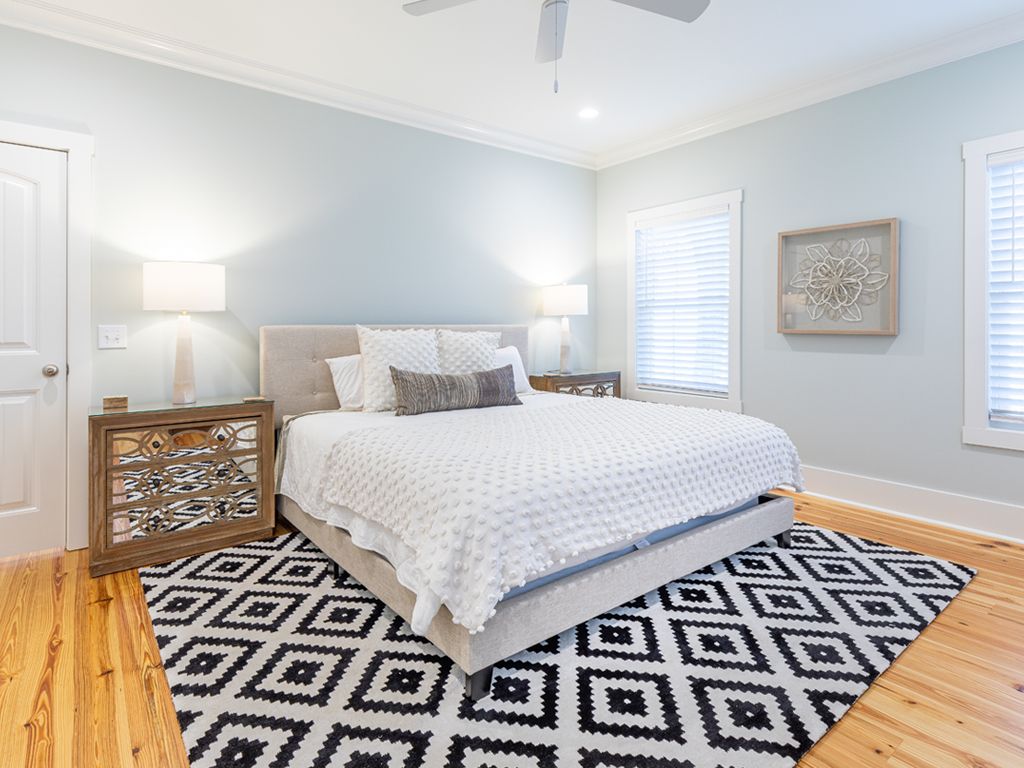 Vertical stripes can be a good choice in small spaces because they create an illusion of height. Dark colors can make spaces feel smaller, because they swallow light. Wanna hear a clever interior design tip? Paint your ceiling a slightly lighter color than your walls. This creates a feeling of lightness overhead. Keep darker colors closer to the ground, or at least below eye level. An oversized, bold print can do wonders for a small space. Something like a large poster, magnified typography, or even a big cut of fabric or wallpaper framed. Remember that when you work too small, and bring in too many small knickknacks, it just creates clutter. Try to balance big with little in your small living room layout.
4. Storage units, or furniture with compartments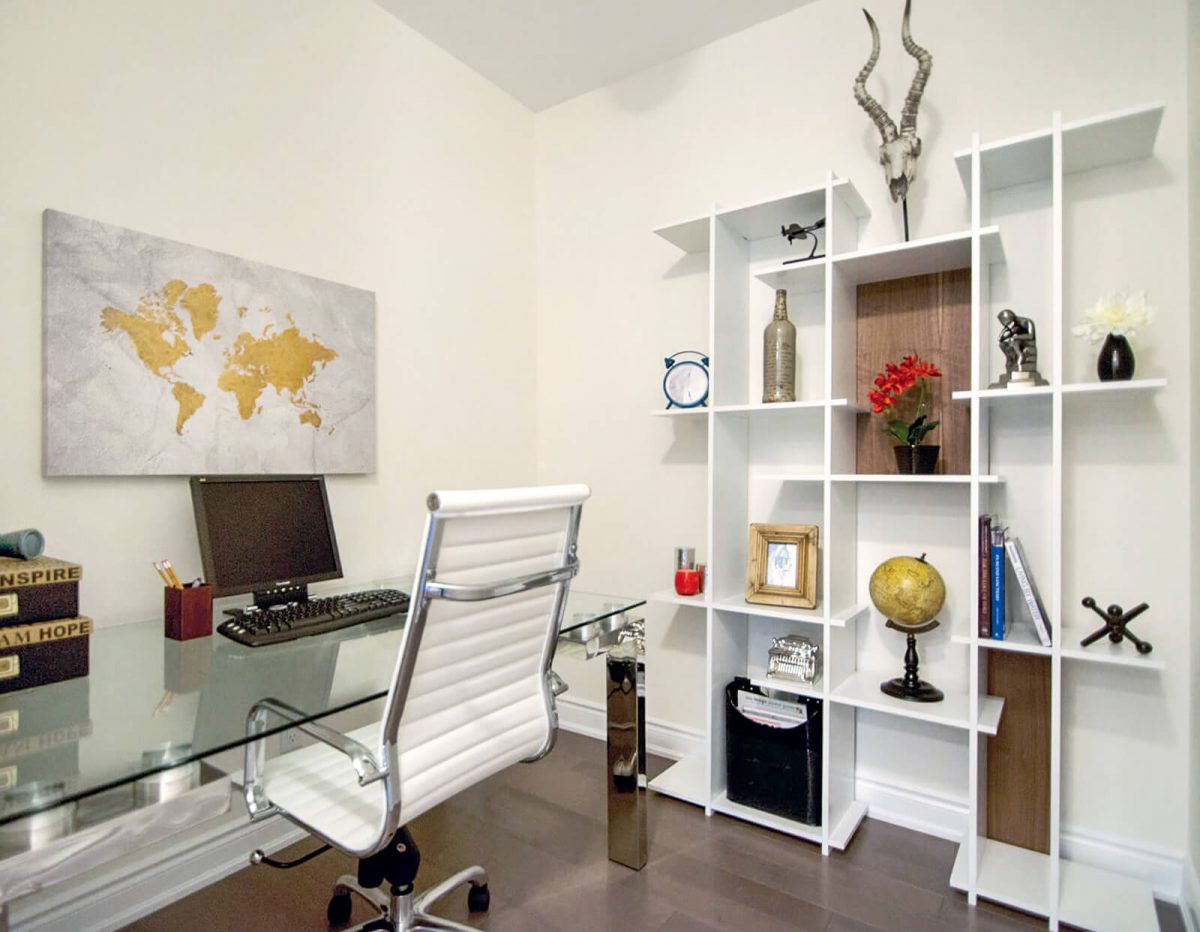 Look for ottomans with storage, and you can easily sock away blankets, books, and living room clutter. We love shelving units that have open shelving on top but enclosed storage on the bottom. There are even some couches that have storage beneath the seat! End tables are a great way to create more storage. For example, rather than choosing a table with a heavy top and a drawer, choose a side table with a slim top and a second low rack underneath. This open structure allows you enough room for a lamp and a cup of coffee on top, and plenty of room below to keep your reading materials or even your laptop.
Coffee tables are a really challenging (but exciting) opportunity to nail your small space living room layout. Look for a tiered coffee table (one that has a second level of storage), preferably open and not closed. The exception to this is if your side table is against a wall. Otherwise, a glass top or light colored wood can help expand the feeling of space, while still offering more spots to keep things. As a last result, you can just stack things underneath your existing side table or coffee table, whether you have a second shelf or not. Store books, a basket for electronics or blankets — corner shelves are also a great way to utilize otherwise empty space. Say it with us: no more wasted space!
5. Task-based lighting can make a small living room feel large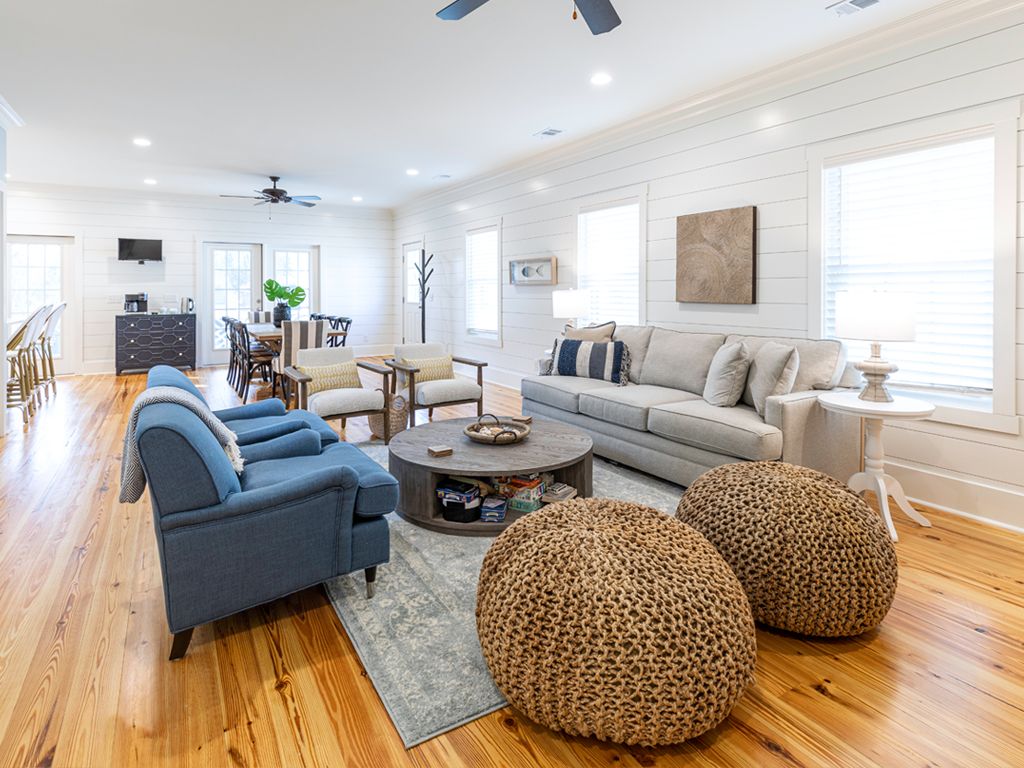 Interior designs are really good at layering lighting. But you can learn how to do it, too! There are several categories of lighting: general, ambient, task, mood, and accent lighting. And don't forget to incorporate natural light! Think about how you currently use your small space, and let your own living habits to guide your lighting design. Are there areas where you need focused light, perhaps for reading? Are there any special architectural features in your space that could be highlighted with some accent lighting?
Using wall sconces is a great way to free up floor space, but check with the building first about drilling. There are plenty of good temporary options for mounting light fixtures, like stick-on hooks or command strips that could easily hold a minimal light and cord. For general and ambient lighting, look for lamps that direct light upwards and spread the light around the room. But to make the most of small spaces, look for ways to layer your lighting. Layered lighting offers a complexity of texture while also creating specific, private-feeling areas in which to do your tasks.
6. A small living room layout is better with zones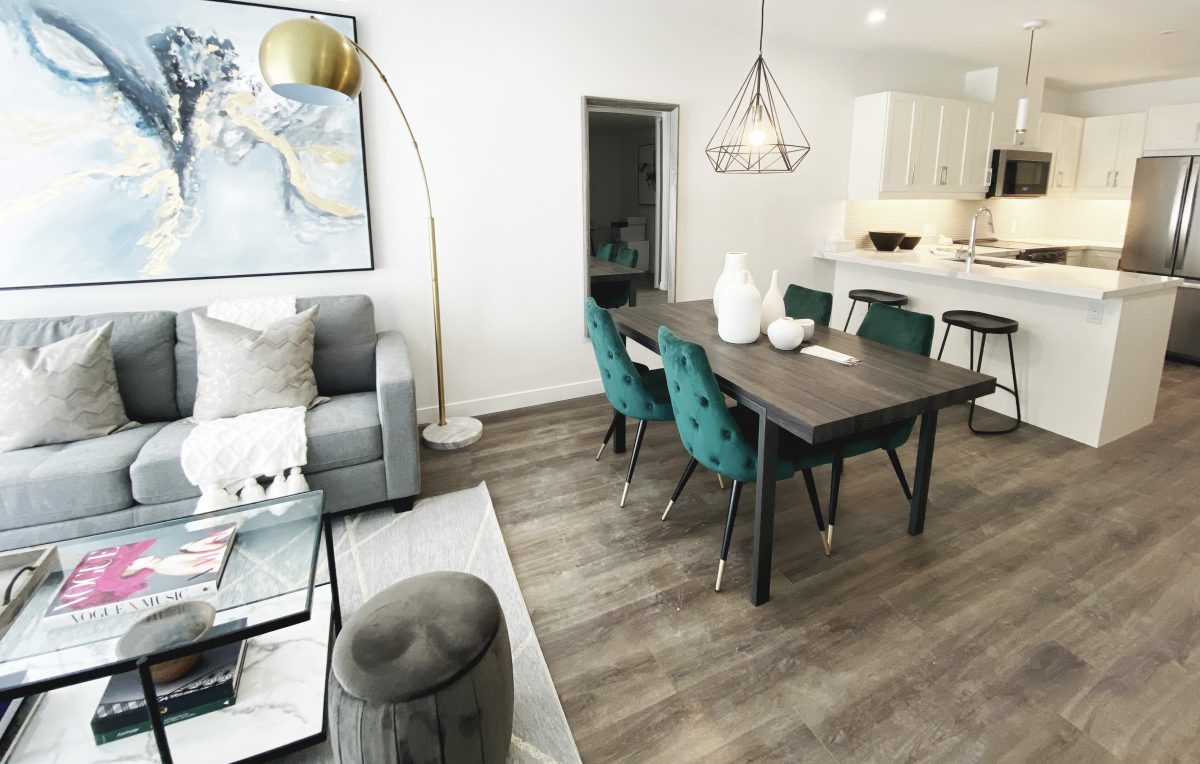 You really can create smaller nooks within a even a small space. Clever furniture arrangements and rug placements help designate specific, separate areas for activities. You could even utilize furniture on wheels if you're the sort of person who will happily do a bit of rearranging before a party. For example, a bar cart on wheels could move from the living room to the kitchen to make room for guests. A side table with wheels could be moved from beside the couch to in front of it, providing you with a mobile desk when you work from home.
What furniture should you get if you're in a studio apartment? Look for tall open bookcases like IKEA's KALLAX line. You can use these to create a separate bedroom zone! The main benefit of open bookcases is that they still let in natural light. They also offer storage from both sides, so you could designate some shelves for living room displays and others for your personal items. Lighting can help you create specific task zones, too (see above). If you're in a studio apartment or bachelor, use a couch or open shelving to separate the kitchen area from the sleep zone. Low cabinets around the outside of your sofa could even double as a dining table or desk.
7. Invest wisely in essential furniture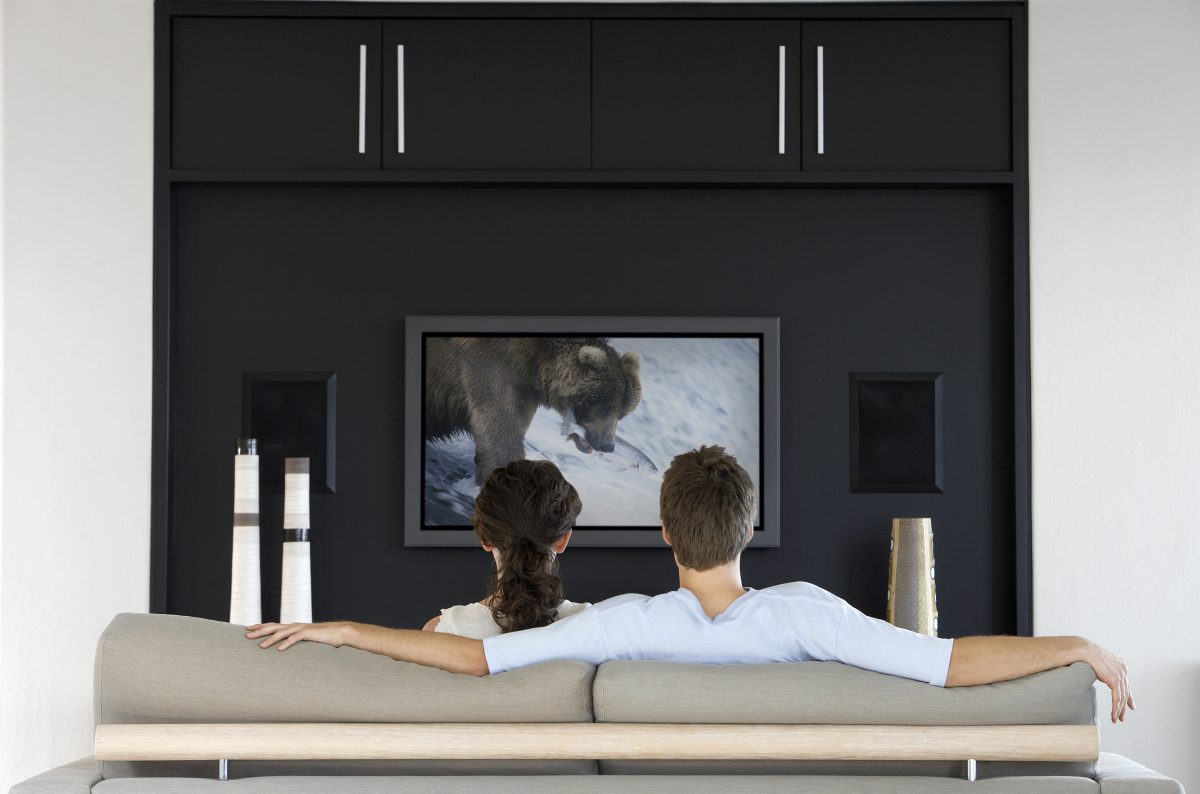 Our main tip for furnishing any space is to invest in the essential furniture. What do we mean? It's a good idea to spend more money on pieces you will have for 10+ years, like your sofa and a bed frame. Spend a bit more for higher quality materials and a timeless style.
That means you can afford to spend a bit less on accent pieces, like side tables and lamps. These don't need to be as durable, and you can feel free to swap them out every few years as your taste changes. If you have kids or pets, you'll definitely want to invest in durable pieces with storage since smaller pieces may get knocked over or knicked. If you want to know cost specifics, check out our comprehensive post about how to furnish an apartment with price breakdowns.
---
Specific ideas for your small living room layout
If you want floor plans, check out The Spruce for some cute illustrations of different ways to layout a small living room. Forbes also has some ideas about how to layout furniture in a small living room.
Otherwise, peek through the gallery of ideas for small living room layouts for inspiration!
And if you are relocating and need some help, our company can create a layout for any size space. Our interior designers get you the best deals on high-quality furniture, and they know how to maximize small spaces.
Drop us a line at Furnishr, and we promise to make it worth it!
If you are preparing for a move, you may also like these posts: