Noor is a busy entrepreneur who loves to entertain. But she struggled with an awkward living room layout in her small one-bedroom apartment in Montreal. She wanted to refresh her entertaining space while sticking to a strict budget.
Homeowner: Noor
Location: Montreal, QC
Delivery Lead Time: 2 weeks
Project Purpose: Living room redecorating
Room: 1 living room
Her Style: midcentury modern
Noor's Apartment
I heard about Furnishr from a friend, and I hoped their designers could help me update my tiny apartment. I'm starting with the living room first and will gradually work through the other rooms. My living room is connected to an open kitchen. It's quite a small space, but I still want to fit in a couch, a dining table, and seating for guests. I really love having my friends over, but the living room didn't feel at all welcoming or stylish.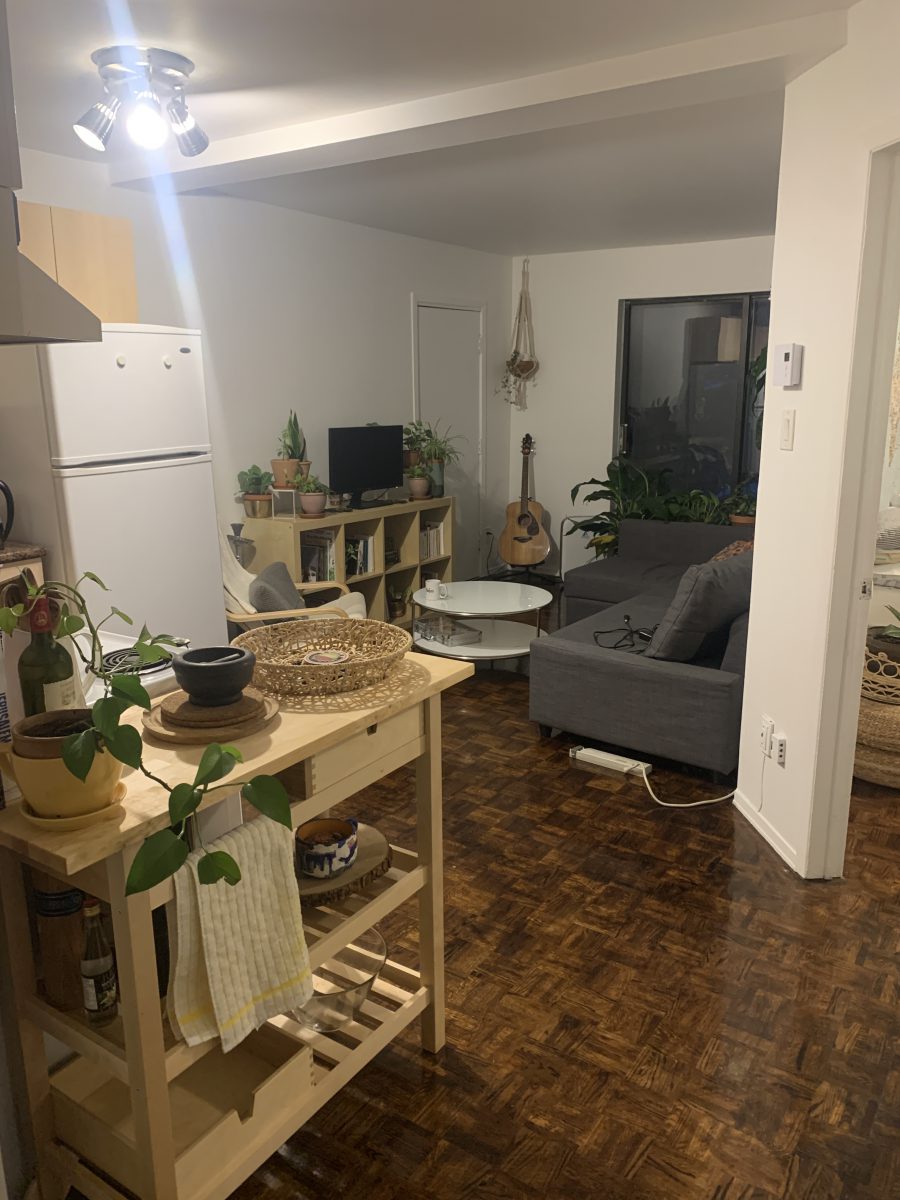 Over the past few months, I had looked at some furniture myself but I couldn't figure out how to fit it together in a way that made sense for my small layout. Not only is the space small but there are also a balcony door, a fire exit and a large fridge that are limiting the ways I can place the furniture. I needed some professional help and an updated living room.
The sticky situation
I knew my design style already: mid-century modern. I had done some brief research and found some furniture I liked. The furniture I found is from eCommerce websites and local stores near me. Most of the stores offer free shipping. For items from local brick and mortars, however, I would need to pay extra for shipping or find a way to get the items into my apartment myself. All the furniture from my own sources would have cost well over $4k. The shopping and deliveries would also have taken a few of my evenings and weekends away.
Thankfully, Furnishr's designers were very willing to look at my inspiration images. My first design call was excellent. I shared some of my furniture inspo photos with my designer Karen. I also asked her to keep the cost to under $4k if possible. She asked me for a floor plan of the space. I likely couldn't get a floor plan of my unit since it is in an old building, so I measured every wall and door of my living room and sent Karen this hand-drawn floor plan.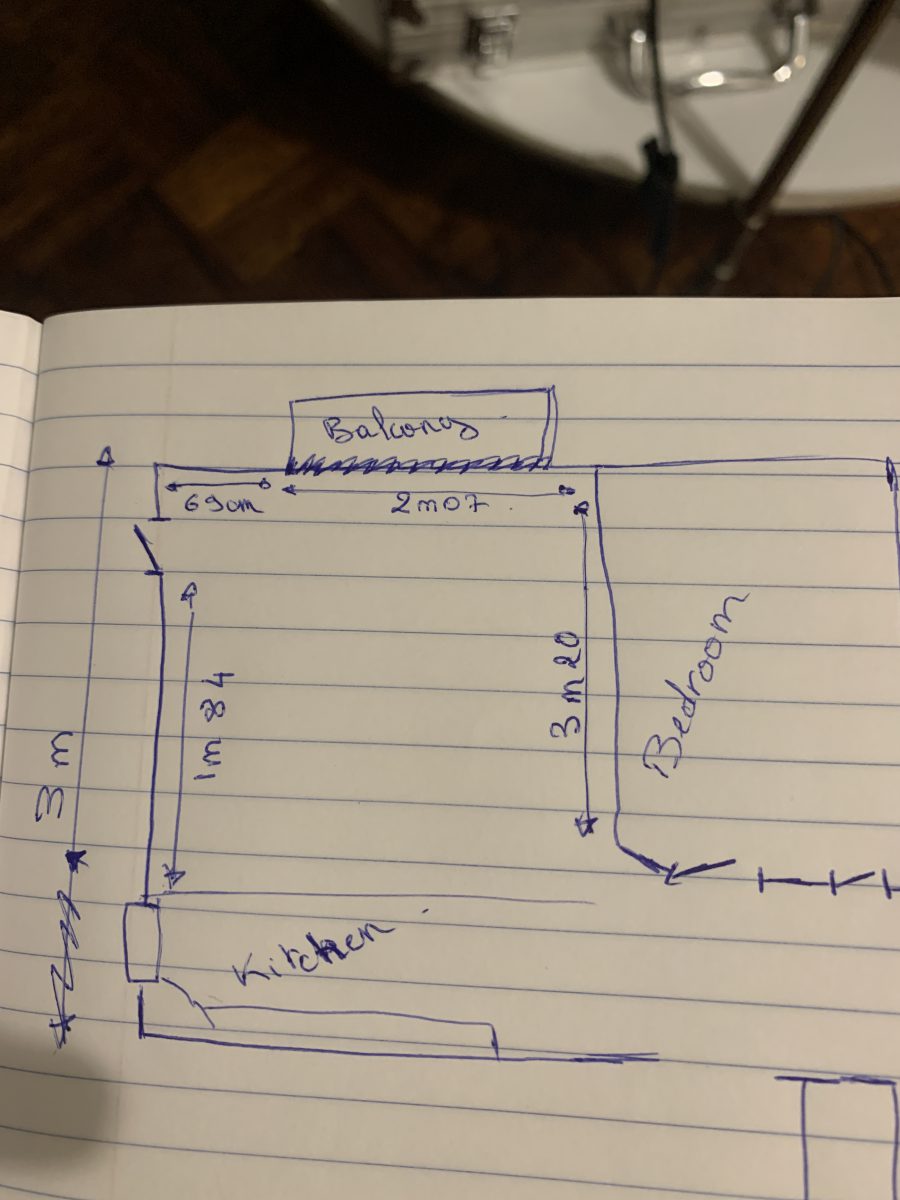 Furnishr's design process
Karen used my images as a guide, and she came back with three initial designs for my living room. All the designs are created based on the inspiration photos I shared. The design package prices ranged from $3800 to$5300 USD. The packages on the low range have upholstered pieces in fabric or faux-leather where the package at the highest cost has a leather chair.
The live edge coffee table and walnut sideboard she chose really highlight my love for wood textures and the midcentury modern look. They both have a gorgeous shape that makes my room feel so stylish. And I really loved the blue sofa. Not only is it a nice deep blue, but it complements perfectly all the wood tones.
Since I loved some elements from each of the designs, I asked for a revision to mix and match pieces that I like. Here is the final design package that Karen made after we chatted.

Besides the curation of furniture, Furnishr also plans the layout for each room. Karen resized my hand-drawn floor plan so that all the walls are proportional for the living room area and presented a furniture layout for each design.
From the revised design, I can see from the space planner that the dining table and dining chairs I originally wanted might not work well in my space.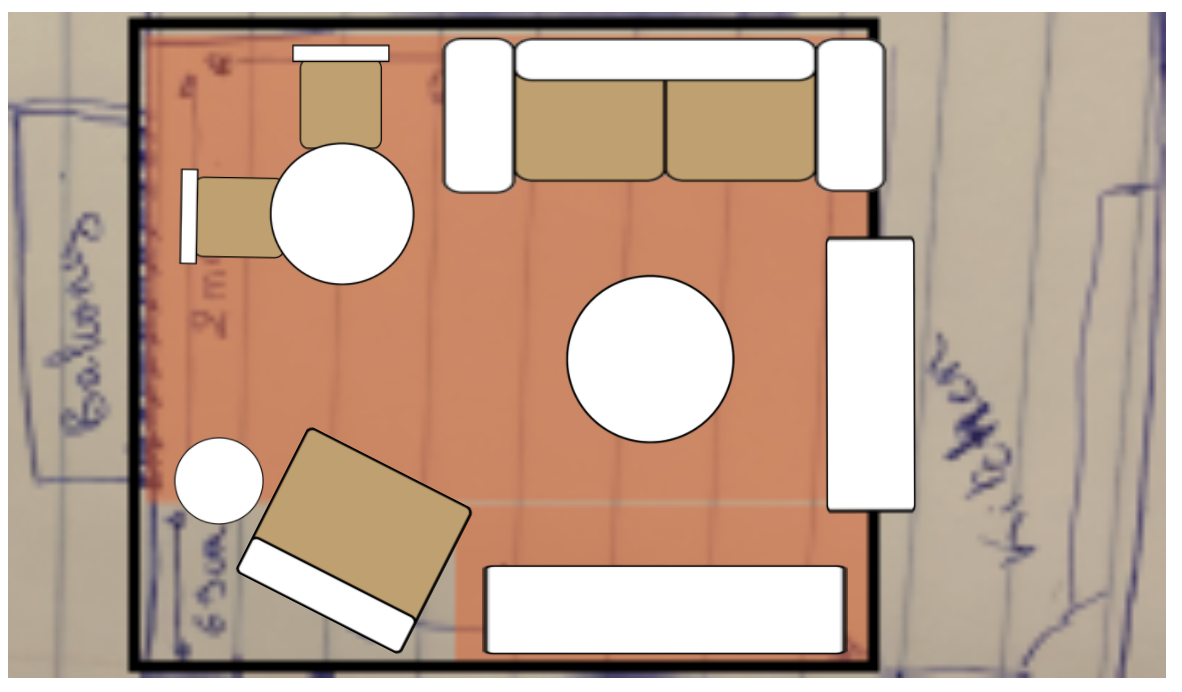 I couldn't decide whether to keep the dining set or not, so I asked Karen to remove the set for now. As a result, the layout changed to have the TV stand and sofa on opposite sides. I can also use the bench as a side table beside the couch. Now, the living area is more spacious and is easier for conversations when I have company.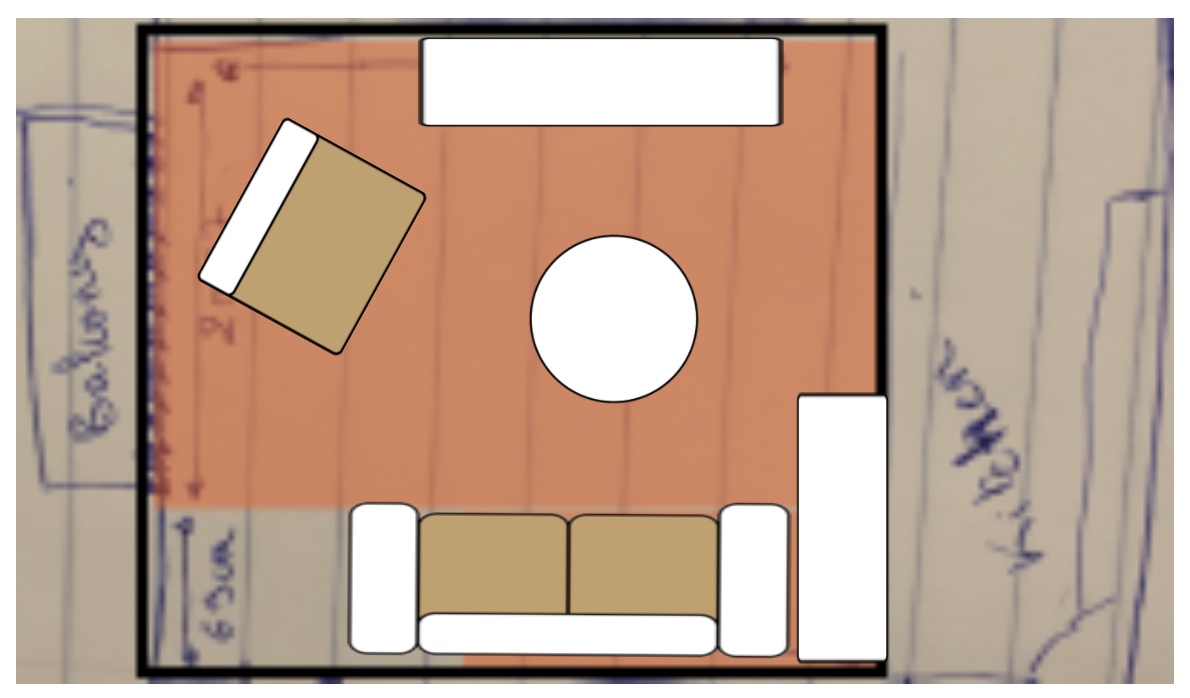 Below is the collection of furniture I decided to purchase in the end. My final design had the jewel-tone couch I really loved, plus my dream wood console as well as several other unique wood pieces that wouldn't crowd my small room.
Because I didn't have much space nor budget for accessories, Karen chose only the essential furniture for me for the living room. The luxurious blue couch is meant to be the statement piece for the room. It makes a really great contrast to my parquet floor, the coffee table and the other wood tones in the rest of the design. As a result, I now have an updated living room that feels inviting and there is plenty of room for people to sit and chat!
Number of Items: 5
Total Project Cost: $3k USD
Furnishr's delivery solution
I don't spend much time at home since my job keeps me very busy. It was wonderful that Furnishr could arrange an early morning delivery. I received the delivery before I went to work for the day, and everything was carried in and set up in two hours by just two movers.
Results
I love my midcentury modern living room! I will be getting a small dining set soon to complement the Furnishr room. Honestly it was so much easier than I thought it would be, and so much more personalized than I expected.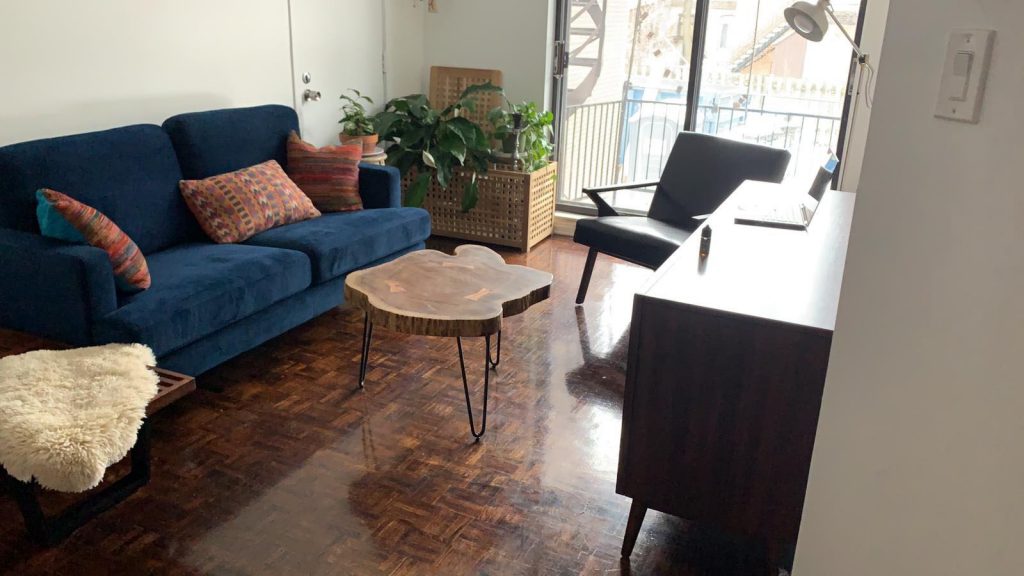 I was worried that I would be sold a generic layout, but it wasn't like that at all. My designer Karen was very responsive and enthusiastic about my vision. They were happy to get feedback from me about revising their designs.
The customer experience was great! It felt like such a gift for myself to have someone else deliver and set up my new updated living room. I am especially grateful that Furnishr went the extra mile to arrange a special delivery time for my convenience. Thank you Furnishr!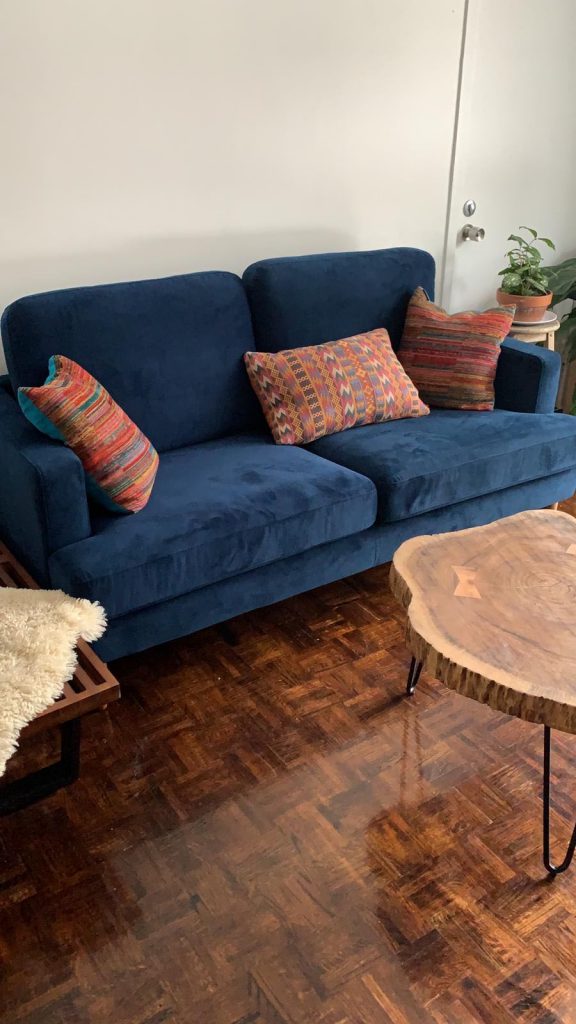 ---