If you're thinking of renting out a home or property you own as a short-term vacation rental on Airbnb or other home-sharing platforms, you're probably wondering how you can set up the space in the best possible way to attract airbnb guests and impress them when they arrive. But furnishing a home for short-term rentals isn't always simple. There are more factors to consider than just style. That's because the needs of a weekend visitor might be different than someone living at a property full-time. You also need to account for a wide range of tastes. You might love creative touches like hot-pink wallpaper, but you're less likely to attract a large number of guests with unique choices like that.
The most vital are of all when furnishing your Airbnb is the living room. This is where your guests will spend much of their time during the day, and its crucial that you nail the décor and functionality of the space. With that in mind, let's take a look at some of the most important elements of an effective Airbnb living area.
What's the easiest way to get an Airbnb unit ready?
Hire help! Most Airbnb hosts are part-time hosts. If you're to do everything yourself, your time spent on finding everything and coordinating the logistics may end up costing you more. Check out our guide for the cost of furnishing an apartment to see whether your time is worth the work.
Or you can let us furnish the whole unit for you in a single day. No need to take days off to wait for deliveries. Just submit a design request, and our designer will send you a proposal with a few designs for all the rooms in your unit. 
Don't forget to ask about the move-in kit! It will include all the kitchen essentials (pots and pans, utensils, cookware, flatware, etc.), beddings and towels for your guests. It will get your guest move-in ready!
Airbnb Furnishing Checklist
Assuming you're managing the furnishing yourself, here are the key tips to be keep in mind.
Avoiding Clutter
One of the challenges of furnishing an Airbnb is that you have to balance two distinct needs—providing enough furniture and seating to serve your guests, while also avoiding a cluttered and overly compressed vibe in your living area.
That's why it's key to choose furniture that's efficient in its use of space and also provides a clean, somewhat minimalist appeal. That's especially important when you consider that short-term travelers are often laden with luggage and other items that will be spread throughout the house during their stay. If the home is cluttered before they even arrive, then it's only going to be downhill from there.
Choosing the Right Furniture
Choosing the right furniture goes a long way in determining how successful and appealing your living space will be. Not only should it be stylish and visually appealing, but it needs to also provide everything your guests will need for a comfortable space during their stay.
Keep in mind that while choosing unique and character-rich furniture can give your Airbnb a unique, quirky vibe, that direction can sometimes backfire. The more distinctive your style, the greater the likelihood that certain guests who don't share your sensibility will be turned off by your choices. Your safest bet is to choose restrained but still stylish and contemporary pieces for the living space. That way you have the best chance of appealing to a wider range of guests.
Seating
When it comes to living room seating, remember that providing ample seating space while leaving enough space in the room is vital. It's a careful balance that will require you to get a little creative with your sofa and chair selection. We recommend going for a two-piece set as opposed to a sectional, as this is more flexible and allows for pieces to be moved to adjust the space.
If you do want to go for a sectional sofa, ensure that you choose one with the right arrangement for your unique space. For example, your living area might be suited for a sectional where the point of the L-shape is on the right, as opposed to on the left. Ideally, you can choose a sectional that can be adapted and rearranged if you find that a certain arrangement isn't working for your Airbnb.
We definitely recommend considering a pull-out sofa bed. Adding another sleeping option allows you to list additional sleep allocations on your Airbnb listing and bump up your price.
Tables & Surfaces
Providing enough areas for dining, playing games and other activities is absolutely crucial. When choosing how much table area and seating to provide, think about the maximum amount of guests your Airbnb can hold. If it only sleeps 4, it's unlikely that you'll need to provide dining space for eight guests at a time. You don't want to overcrowd your space with an unnecessarily large table.
In regards to choosing the right table shape, we suggest taking a page from King Arthur's book. Circular tables can be the most space-efficient, removing angular corners that can cut into pathways and living space. That doesn't mean that square or rectangular tables are off-limits—they might be better suited for your space than a circular table. But if space is at a premium, a circular table can be a great way to offer ample seating without commanding a large area of floor space. Circular tables are also a more casual option than rectangular tables, perfect for the board game sessions and hang-outs that are a hallmark of most Airbnb stays.
Television/Entertainment
Consider mounting the living room television directly to the wall rather than using an entertainment console or other TV stand. This will keep you from taking up more space than is necessary for your television, and also adds a high-class vibe to your living room. There are two types of mounts to consider—fixed or adjustable. Fixed mounts keep the television in a set position that can't be altered by you or your guests. An adjustable mount can be turned rotated, and adjusted for the perfect viewing angle. Adjustable mounts are obviously more flexible, and can allow your guests to view the television clearly from various spots in your rental. That being said, it's no surprise that an adjustable TV stand invites guests to adjust it. They might not all be as delicate and respectful as you, and this could result in damage to your mount or the television itself. 
If you do opt for an entertainment console, choose one with opaque doors that will let you hide away electronics and other peripherals to avoid clutter.
As far as the TV itself, there's no need to go for a mega-huge option. But guests will also be turned off if all you offer is a 12" tube TB from 1995. Nice, relatively large digital TVs are fairly cheap these days.
Should you opt for a more common (and inexpensive) LED TV or a 4K Ultra High-Def option? That's your call. Personally, considering how impressive even mid-range LED TVs have become, we're not sure springing for a more expensive 4K option will be worth the cost for you or your guests. But that's a call you'll have to make on a case-by-case basis.
The Power of Multi-Purpose Pieces
Designing an Airbnb with limited space is all about finding the best way to maximize the floor area. That's why we love adjustable and multi-purpose furniture. If you choose options that provide multiple arrangements or uses while still remaining stylish and contemporary, you'll be rewarded with a more spacious, appealing Airbnb that will land you more guests.
Let's take a look at a few of the most common multipurpose furniture items and how you can use them to expand your living room space (as well as other spaces in the home) for maximum appeal.
Daybed with Storage
If you don't opt for a pull-out sofa, a daybed with storage can be a great alternative. A comfortable seating option by day and an additional place to sleep by night, some Airbnbs feature daybeds in their living rooms in lieu of sofas. They also offer the added benefit of providing storage in drawers or shelves underneath, increasing the flexibility of your space and reducing clutter throughout the home.
A daybed is worth considering for a living room space, particularly if you're in an area that caters frequently to large groups and you want to absolutely max out the amount of guests who can sleep in your rental.
Pull-Out Couch
We already mentioned this above so we won't go into too much more detail. However, it's worth mentioning that not all pull-out furniture is created equal. Many lower-end models leave you with a poorly constructed sofa and a poorly constructed bed in one. If you do go for a sleeper sofa, choose one that rates highly in comfort both in sofa-mode and once it transitions into a bed. Uncomfortable sleeping arrangements can lead to poor guest reviews and decreases in bookings.
Extendable Table
Whether it's a coffee table or dining table located in the living room, choosing extendable surfaces is a great way to maximize the available space. Some feature side 'leaves' that fold out from under the table and lock in place. Others use sliding pieces to extend smoothly from below, and still others are actually two separate pieces. These are designed so that the slightly smaller table can fit under the other when not in use, but then spread out for additional space when necessary. This can be a very flexible and helpful factor in making the most of your living space for your guests.
Moveable Surfaces
Speaking of flexibility, choosing surfaces with wheels or ones that are lightweight enough to be easily moved can greatly increase convenience for your guests. When they have the ability to quickly move a table aside or arrange seating around a board game or other activity, your guests will feel more at home in your rental. Using furniture with wheels will also help prevent scraping and scratching on your floor.
Extra Tips to Consider
We've covered some of the considerations for maximizing your space and providing an effective, homey and stylish Airbnb. But let's take a quick look at some additional last-minute tips that will help your living space translate into more bookings, higher income, and less costs down the road. You'll find that expending just a little thought towards these tips and some of those listed above will absolutely transform the appeal and profitability of your Airbnb in a way you never thought possible. 
Washability
This tip is more for your sake than the sake of your guests. Choose furniture that's rated highly for washability. Selecting high-end fabric that are impossible to safely clean will leave you with a lot of expensive, poor-looking furniture after just a few guests. Remember—wear and tear on your furniture will be higher with guests than if you were living in the unit yourself. Stick to washable, easily cleaned fabrics to make your life easier.
Durability
Along those same lines, we recommend choosing furniture that's built to last. While you might feel thrifty by choosing cheap furniture with a low-end price tag, you're likely to end up paying down the road when the furniture breaks down more quickly. Replacing furniture should not be a regular part of your routine as an Airbnb host. Opt for quality and you'll be rewarded with a low-maintenance living space.
Neutral vs. Unique
We touched on this a bit already, but let's talk about style. Balancing the level of personal touches in an Airbnb is a delicate art, one that many hosts have a hard time mastering. You might absolutely love the quirky appeal of your armchair shaped like a swan—but many of your guests may not feel the same. That being said, you don't have to erase any semblance of uniqueness or personality from your unit altogether.
We recommend striking a balance. For major furniture items like sofas, coffee tables, and major wall art, try to stick to universally appealing, current and modern styles. But you can then feel free to season the rental with small, unique touches that will allude to the owner's personality without it becoming overpowering. A good rule of thumb—if you're not sure whether a piece of furniture item is too strange for your rental, it probably is.
Photo Factor
When you visit a rental listing on Airbnb, what's the very first thing you do? If you're like most potential guests, you scroll through photos of the unit. And the living room where you'll spend most of your time in the unit is at the top of your mind.
That's why it's vital to choose furniture that not only looks good in person, but also photographs well in your space. A photogenic listing is absolutely vital to securing guests. We recommend trying different furniture arrangements and taking photos as you go. You might find that something which feels right in person might not translate as well to a photograph. In that case, you may want to consider a new arrangement or removing/swapping a certain item in the living space.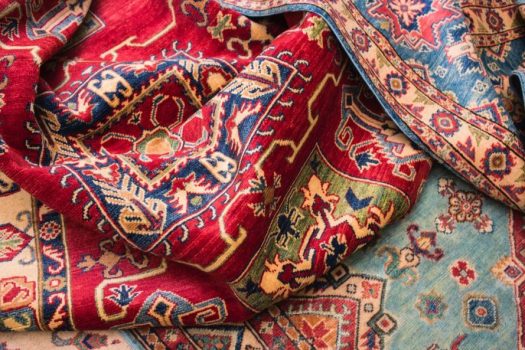 Key Take-Away Points
Overall, it's impossible to overstate the importance of your living room or living space when it comes to attracting guests and impress them once they arrive. Keep the space clutter free, implement multi-purpose or adjustable furniture, and keep quirky or personal touches to a minimum while sticking to primarily neutral and contemporary furniture choices. This will allow you to achieve great reviews and hopefully, your investment home will be fully booked per month!
Feel overwhelmed by the thought of furnishing your rental yourself? You can always hire a professional furnishing company to handle the entire process on your behalf. An experienced furnishing organization will analyze your unique space, target guests, and budget, then impeccably decorate and furnish your listing to maximize bookings and boost your list price. Read about how Jason was able to boost his nightly rates.
Don't do it yourself. Furnish your space in a day with Furnishr.
We've furnished many short-term rental homes in cities and by the beaches. The decor and furniture in a unit need to complement the style of the home and the neighborhood it is in. If the unit is in a city, use more contemporary finishes with wall arts that speak to the culture of the city and the host. This shows a personal touch for a city-loving guest. If the unit is a cottage get-away, then mixing different styles of furniture tastefully is the way to go. 
Other useful links: