Clashing Interior Design Styles
Couples that have different tastes in decorating style often have clashing opinions when it comes to moving in together.  Adjusting his style to fit yours is often complicated. Many of whom just want a space to display their belongings, making the home feel comfortable and familiar. Whilst others just want equal space in the closet and bathroom cupboards. Compromising and understanding the other person leads to a happier relationship and creates a space that happily reflects the two of you as a couple. Here are some tips on how to incorporate both partners decorating style in a shared space.
1. Compromise
When you become accustomed to living alone, you can adopt bad living habits that you didn't realize were there. Now that you have a new roommate, it is time to understand that your partner might not be as understanding when you take up all the bookshelf space or sprawl out all your favorite magazines on the coffee table. He might want to display his favorite souvenirs or books in the room too. There are ways that you can have what you both want through compromising – if he wants his gaming console in the lounge then you are allowed to place a nice vase of flowers. This type of thinking allows you to prevent disagreements and allows each partner to display their own unique style.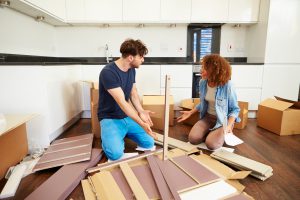 Key Decorating Pieces

Choose a few key pieces to display that you can both agree on and that matches your combined style. This will allow you to each feel represented in the home equally, create comfort and openness. Try to be open-minded and understand why their piece is important to your partner.
Your Own Styled Space

Although having a shared space can be nice, everyone needs their own personal space. At the end of the day, we all have our own unique styles. Some are into contemporary design or mid-century modern styling, maybe an industrial style or rustic style, and others might enjoy a modern design or a French country vibe. We all have our own design elements or color palettes that we like to stick to.
Try to incorporate spaces within the house that are for you only, and the same goes for your partner. You can choose to have your own room, office, corner or it may be something as simple as a shelf in the bookcase. This your area to enjoy and style as you wish.
This can be a "man cave" or a relaxing room for a woman to enjoy her latest magazine with a coffee. Or it can be a bookcase either side of the TV that is for each of you to place belongings.
Shared Decorated Space
With main areas of the house such as the living room, dining and kitchen keep things that represent both of you. If one of you has the majority of furniture you can include your partner in the decision process of adjusting the placement of furniture. They could add soft furnishings of their choosing.
Alternatively, you can go shopping together and select new furniture that you both agree upon. Flea markets are great places to thrift for 'new' furniture if you are looking for something cost-friendly. You can also consider picking neutral colors if you are having difficulties selecting furnishings.
Couple's Room Equity
Ensure your partner has adequate space for their belongings as it makes them feel welcome and part of your life. This means sharing closet space, cabinet space in the bathroom, space in the kitchen for food and appliances. Additionally allowing space to be shared for larger furniture items.
>> Let us know down below your first experience moving-in with your partner. How did you handle conflicting decor styles and sharing personal space?