Living in a small space can be fun, affordable, and downright cozy. But decorating and making a small space comfortable can be a challenge for even the most design-oriented person. You don't have to be an interior designer to know how to decorate a studio apartment on a budget.
However, if you're short on time or moving soon, then it might make sense to use a design-and-furnish service rather than DIY-ing it. Don't worry, if you work with a furnishing company, you still get to play designer!
You start by requesting a custom room design. Then you collaborate with a trained designer to choose a layout and furnishings for your unique floor plan. You can actually get a better price than sticker price because furnishing companies have direct relationships with suppliers. All you have to do is pay a flat fee and they handle delivery, assembling, and set-up for your stylish new room.
Here are some simple guidelines to get you started. Keep in mind that rules are meant to be broken if the final outcome isn't appealing.
Turn on an episode of a home design show on Netflix while you decorate your studio, and have fun! It's your space. You have to live in it.
Choose the Right Colors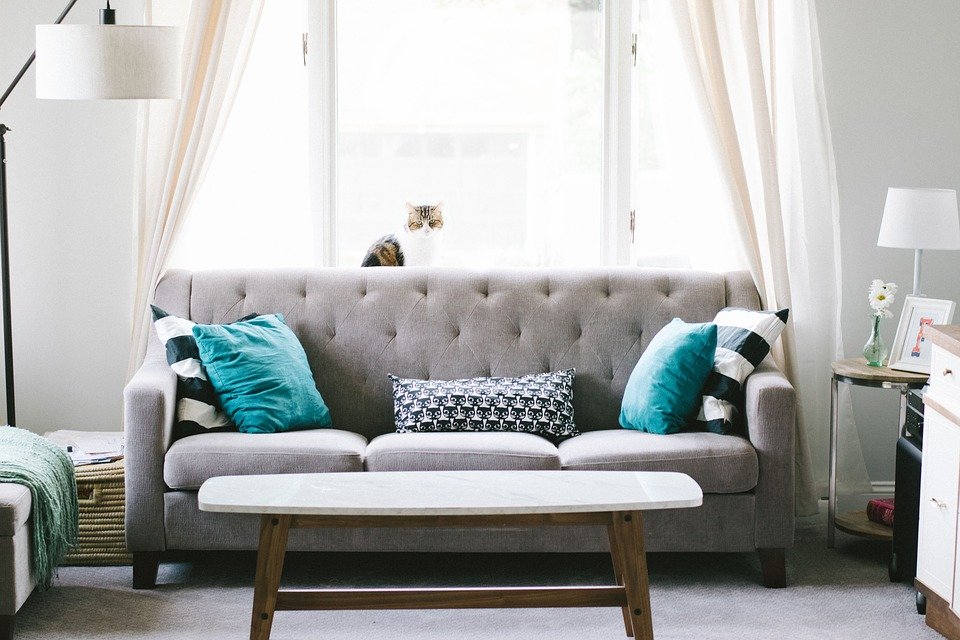 You know that feeling when you walk into a room or bathroom with dark walls or lots of dark furniture? You feel closed in. Maybe even a little claustrophobic. That's not how you want your guests to feel when they enter your place. That doesn't mean you have to have all white walls either.
In the right place, like an accent wall behind a bed, or in the right shade, like lilac or seafoam green, light or dark colors can be used to make your small space more inviting and livable. But before you pick up a brush, check out some pictures of rooms painted in colors decorators think are ideal for small spaces.
The most important part of choosing a color is finding what you like. Start by looking at your wardrobe to get an idea of what colors appeal to you. Do you wear lots of pastels? Or are you more attracted to earth tones? Do you wear a lot of denim and t-shirts? Or do you feel your personality shines best in brights and neons? Whatever colors you choose, make sure they make you feel at home in your space and spark some joy.
Select Multi-functional Furniture
Your furniture will be used to help you relax, sleep, and eat. You also want to be able to entertain guests and maybe even work from home. Choosing furniture that can serve numerous functions in your small space will not only save space but fewer pieces will make your home easier to navigate.
A convertible sofa
A convertible or sleeper sofa is a smart choice for the main piece in your living/entertaining area. There are several furniture brands that make sofas for small spaces that range from the sleek and simple to the plush and luxurious. Or just use a design-and-furnish company to help put together a complete floor plan for you, and ask for a convertible sofa.
During the day you can use it to read or watch television and in the evenings it can be used as a guest bed. Whether your style is strictly traditional or leans more eclectic, choosing a sofa that is proportional to your space is key to keeping your space from feeling crowded. This may mean selecting a sofa with low or no arms and in a light color and fabric type.
When choosing a bed to decorate your studio, select one that can be used as additional seating. A futon sofa bed is a great option when you don't have a lot of space or money. They may seem outdated, but futon sofa beds have come a long way since they were developed in the 1980s, now available with durable wood frames, plush mattresses, and removable covers. The mattress and frame can be bought together saving you some money. Futon sets are widely available from numerous retailers ranging from online discounters to big-box furniture stores.
A coffee table with storage
One piece of furniture you shouldn't pass on is a coffee table. You may think you don't need or have room for one. But the right coffee table can actually save you some space. A simple ottoman topped with a tray can be used as a small coffee table and doubles as seating for guests. Or elevate the look with a small square or rectangular coffee table with a storage shelf, drawers, or cubbies.
Prefer a coffee table that can be stored to give you extra floor space? Look for folding or nesting tables. A "C" table is a great option if you want something stylish to slip over your sofa or chair arm. Convertible coffee tables are the latest in multi-purpose furniture. Many of these pieces have one or more lift tops so they can be used as a desk or eating tray. Some have wheels so, when moved into the center of a room, they look and feel more like a traditional dining table.
Stylish Storage Solutions
Once you've decided on your furniture placement, you need to consider how to incorporate storage solutions into your space. Options abound so take into account how much storage you need, how much floor and wall space you have, and how you will style your storage.
If your studio apartment has a closet, you can maximize the space with inexpensive wall-mounted shelves, wicker baskets, and shoe racks. The space on and behind the door is ideal for hanging jewelry, scarves, and handbags. If you don't have a closet, decorate your studio with storage units that have vertical and horizontal storage options. Home improvement stores, big-box discount stores, or online will have affordable modular shelves or closet systems.
Without a lot of floor space, you need to think vertical when determining how to decorate a studio apartment on a budget. Solutions such as floating open-air shelves will draw the eye upwards and make your apartment appear less crowded. You should also think of all of your unused space for storage. Turn the empty space under your bed into a dresser, book storage, or overflow from your bathroom. Why not add a great bidet to save paper? You can either purchase a bed with drawers or fashion your own from inexpensive under-the-bed containers. 
Accessories and Lighting
Your home wouldn't feel like a home without the added touch accessories will give. Items like candles, framed photos, and plants are not required but can be an inexpensive way to personalize your space.
Keep in mind the designer's rule of three when styling your shelves, walls and table surfaces. Try to create vignettes of three distinct items. Don't be afraid to mix high-end items with thrift store finds. Try to balance your space with books, candles, small storage boxes, baskets, bookends, and clocks of varying shapes and sizes. This will prevent your space from feeling over-cluttered and will make it look like you hired a professional designer.
Even if your apartment has wall-to-wall carpeting, try throwing down a patterned or colorful area rug in your living or sleeping space. It's an easy way to define different zones in a large room without using dividers or screens. Don't forget to continue the color and pattern throughout your apartment with thoughtfully-placed pillows and throw blankets. 
Installed in the right locations, the light fixtures you use in your small space can make it look larger. Fixtures come in a variety of styles so try to stick to your design style and not get overwhelmed. Try placing wall sconces and tall lamps in corners or behind large pieces of furniture. This adds height to your space while adding warmth.
---
If you're looking for a more comprehensive budgeting guide, then check out our post, "The Cost of Furnishing an Apartment: A Step-by-Step Guide With Breakdown of Furniture Costs."
Want to book a free design call? Go here to claim your spot.
This has been a guest post by Steven Wood of Swankyden.com