The Situation
Monifa is a young professional venturing into her first mortgage and first home! She came to us with an excitement about her first adult apartment. She was ready with a colourful Pinterest board that expresses her style in a collage of looks. What's difficult for many like Monifa is the design guidance to commit to one look that is personal to her and fitting to the space. More importantly, Monifa is keen on sticking to a $10k budget after getting a budget range from our handy furnishing cost calculator.
Property type: One-bedroom apartment
Budget: $10k
Timeline: 4 weeks
Location: Miami, Florida
Before / After
Monifa purchased a bright and spacious one-bedroom apartment that is perfect for living on her own. The previous homeowner had a boho glamorous style that is colourful but not modern enough for her.
Before photos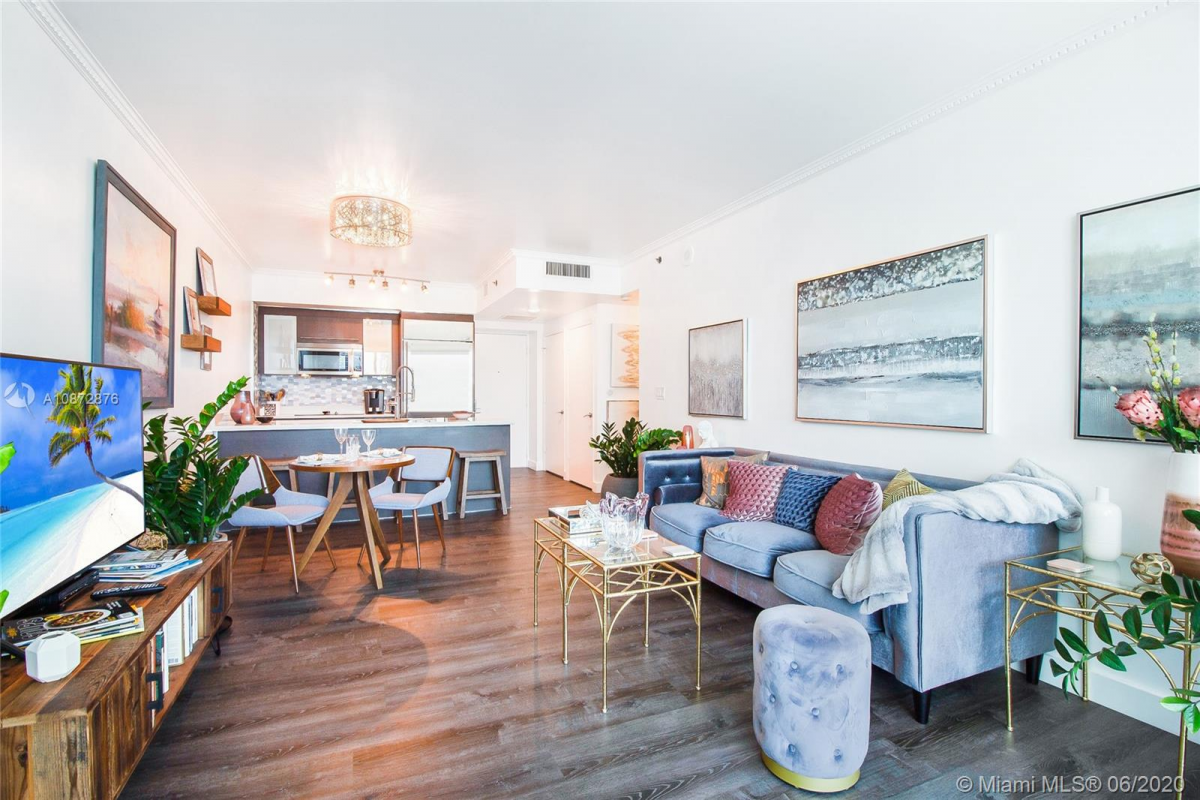 Furnishr's design goal was to create a cohesive design package that includes key modern pieces that work as a functional canvas. After all, Monifa enjoys the process of decorating but furniture moving is too labourous and overwhelming. Because of that, our focus on Monifa's $10k budget was on the essential furniture pieces for each room.
The Layout
To know what furniture pieces to include for each room of the apartment, it's important to figure out the layout first. Based on the floor plan, we can quickly determine the sizes of the key furniture. For example, the living room is long enough for a sectional sofa and an accent chair. The width of the sectional also dictates the size of the area rug which can create the living room area in the open living-dining space in the apartment. Remember that the size of the TV also needs to be suitable for the depth of the living room. Then, the remaining space between the living area and kitchen will give us the approximate size for the dining table and chairs.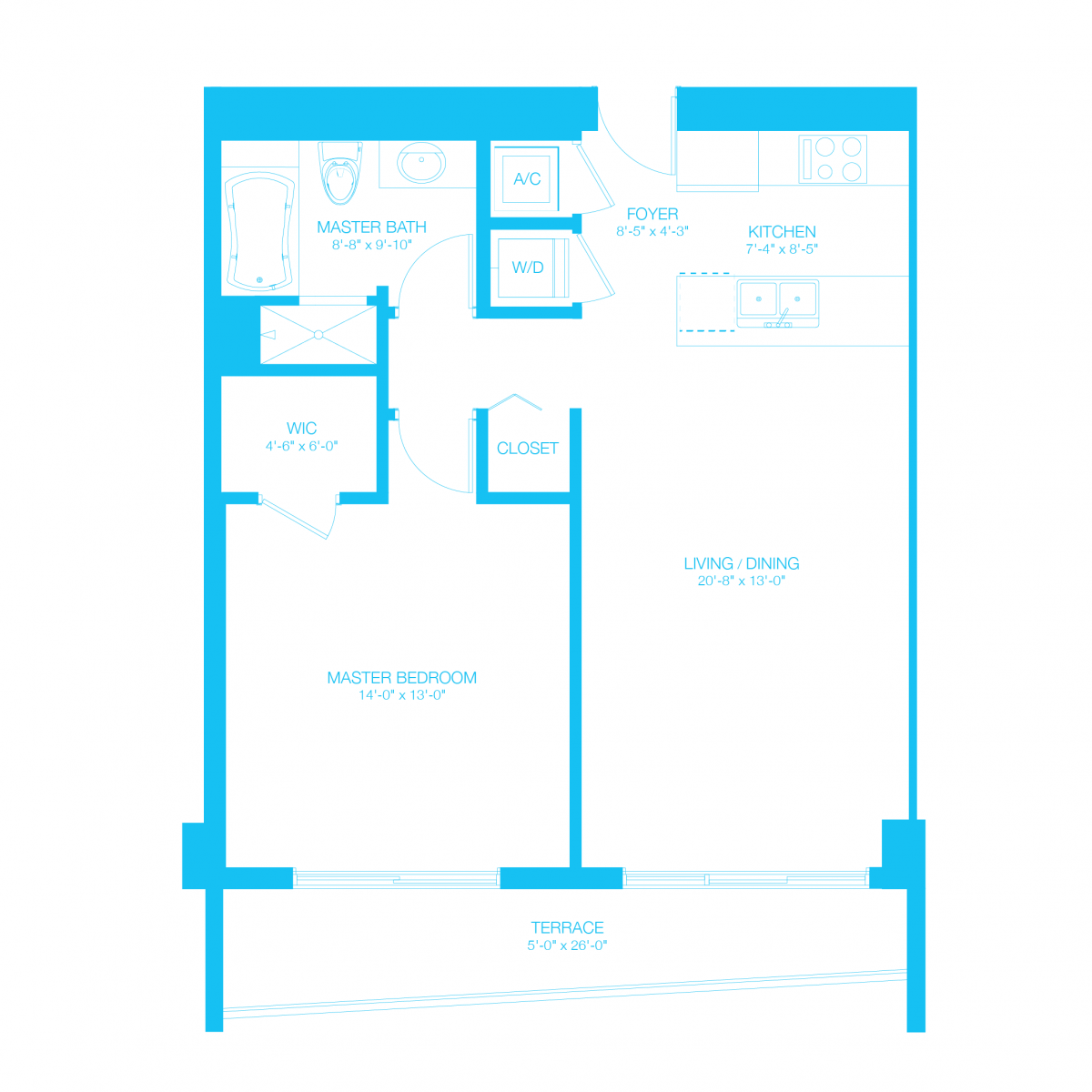 After Photos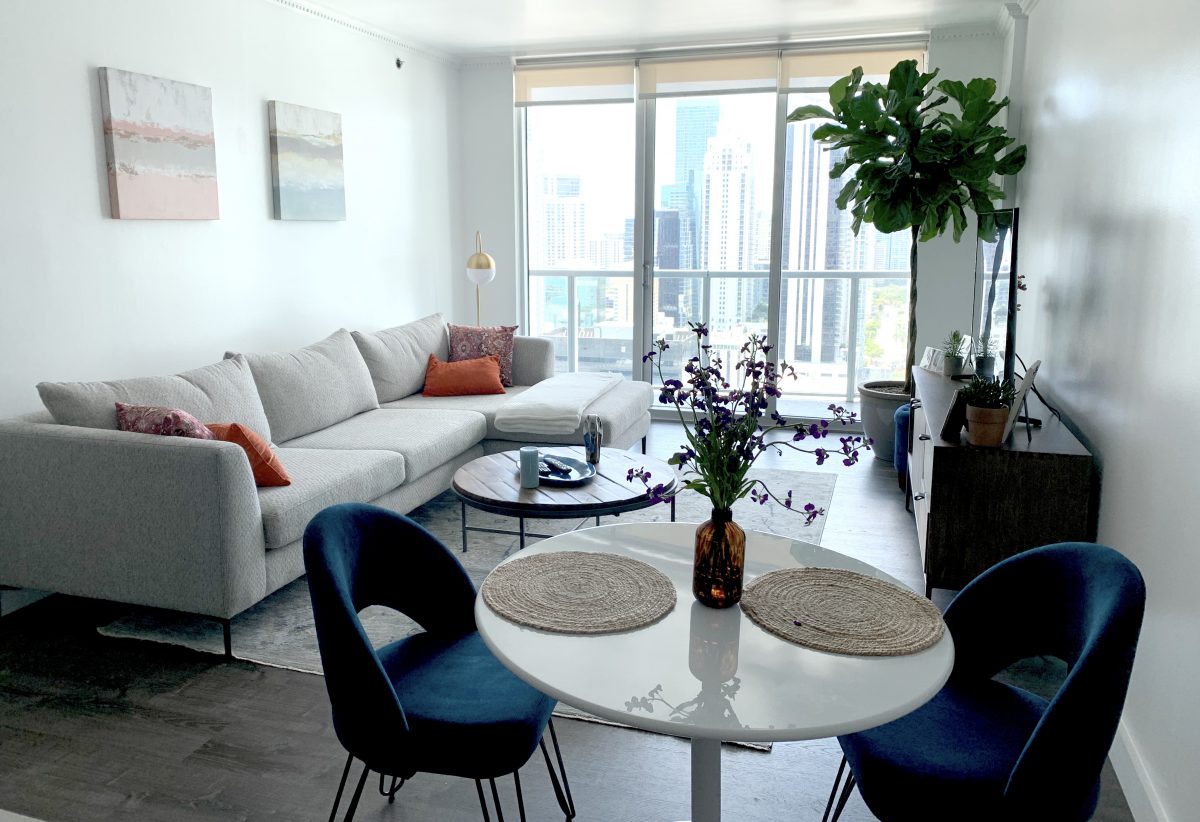 Price Breakdown For Furnishing Monifa's One-Bedroom Apartment
In Monifa's design proposal, we included 13 products that we thought would provide a strong cohesive style and make her apartment functional immediately after we furnish it. Within the $10k budget, we also include our service fee.
The large essential items (**) will come from a top-tier supplier (eg. Four Hands, VIG, Union Home). The non-essential items may come from tier 2 or tier 3 suppliers depending on the flexibility of the budget. Based on the amount of furniture included into the project, we will also apply a bulk discount on the product prices. Because we are furnishing an entire room or house at the same time, we can pass on savings from products and services to customers.
Room
Product Type
Quantity
Unit Price
Price
Living Room
Sectional Sofa **
1
$3235
$3235
Living Room
TV Stand **
1
$1228
$1228
Living Room
Coffee Table **
1
$710
$710
Living Room
Floor Lamp
1
$160
$160
Living Room
Area Rug (8×10′)
1
$420
$420
Dining Room
Dining Table **
1
$889
$889
Dining Room
Dining Chairs
2
$263
$526
Bedroom
King Bed **
1
$1798
$1798
Bedroom
Nightstands
2
$321
$642
Bedroom
Dresser **
1
$707
$707
Bedroom
Wall Mirror
1
$367
$367
Bedroom
Office Chair
1
$486
$486
Bulk Product Discount
25%
-$3306
-$3306
Project Services
Curation, space planning,
warehouse receiving,
consolidated delivery,
installation, debris removal
1
$1477
$1477
Project Total
$9639
Price breakdown for furnishing Monifa's aparrtment
Price Breakdown By Room
The price breakdown for furnishing a one-bedroom like Monifa's is as follows. The most important rooms are typically the living room and bedroom. Therefore, their furnishing costs would take up 70-80% of the budget. The dining room for apartments are generally smaller than a dining room in a house, so a bigger home may have a slightly different breakdown.
As a result, Monifa's $10k price breakdown for furnishing the apartment consists of 44% of living room furniture, 31% of bedroom furniture, 11% of dining room furniture and 14% of services that include design and space planning, product purchasing, delivery, installation and packaging removal for all 13 products.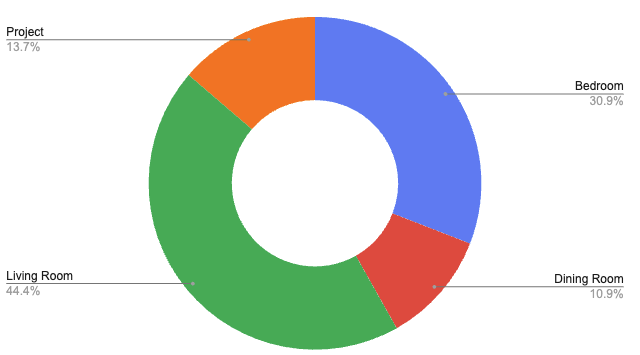 ---
The Furnished Result
After 4 iterations on the design, we finally got to the final selections. Our delivery lead time for Miami is about 3 weeks. Since furnishing the apartment will allow her to move in sooner and stop paying rent on another apartment, we expedited the delivery process to get furnish this beautiful apartment. When all is done, Monifa could start living the adult life in this first apartment and take her time accessorizing the space with decor and arts from local artisans.
Ready to start your project?